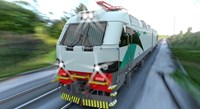 Alstom signed two major contracts in India for a total amount of more than €3.7 billion.
The first contract for the supply of 800 electric locomotives and associated maintenance, following a letter of award received on 9 November 2015, was signed with Indian Railways in the presence of Arun Jaitley, Finance Minister, Suresh Prabhakar Prabhu, Minister of Railways, Nirmala Sitharaman, Minister of State for Commerce and Industry, Manoj Sinha, Minister of State for Railways, Henri Poupart-Lafarge, Executive Vice President of Alstom, Dominique Pouliquen, Senior Vice President for Alstom Asia Pacific and Bharat Salhotra, Managing Director of Alstom India and South Asia.
The second contract was signed with DFCCIL (Dedicated Freight Corridor Corporation of India Ltd.) and relates to the electrification, signalling and telecommunications system for a part of the eastern Dedicated Freight Corridor (DFC).
"We are pleased to sign today these contracts which will play a crucial role in boosting India's economy and infrastructure development while supporting the strong growth of Indian Railways. At Alstom, we are committed to addressing the ever-growing market in India by expanding our local footprint and bringing technological expertise and know-how to the country" said Dominique Pouliquen.
The first contract will supply Indian Railways with 800 electric locomotives and associated long-term maintenance. The locomotives belong to Alstom's Prima range. They will be 9,000 kW at the wheel rim and will run at speeds of up to 120 km/h. Alstom will invest around €200 million in the project, which will be executed by a recently formed JV in which Alstom and Indian Railways respectively hold a 74% and 26% stake. The scope of the project includes the set-up of a manufacturing plant at Madhepura (Bihar state) where most of the locomotives will be assembled. The delivery of the locomotives will take place between 2018 and 2028. The project also includes the set-up of two maintenance depots at Saharanpur (Uttar Pradesh state) and Nagpur (Maharashtra state).
The second contract, worth over €200 million, will provide the electrification, signalling and telecommunications system for the 343-kilometre-long eastern portion of the Dedicated Freight Corridor, a major government-led project to build eastern and western freight corridors across the country, expected to be completed by 2019. As part of the contract, Alstom will also build the stations and provide the control centre.
Both projects will allow faster, safer and heavier freight trains to move across the country, thereby reducing congestion for passenger train services and freight. They will be handled by Alstom in India with the support of Alstom's sites expertise in France.
Alstom has several sites in India including a signalling, telecoms and train engineering unit in Bangalore, a metro manufacturing facility in Sri City and a traction systems manufacturing unit in Coimbatore. Alstom has strong references in India in the urban segment for cities like Delhi, Bangalore, Jaipur, Chennai, Kochi and Lucknow.
About Alstom
As a promoter of sustainable mobility, Alstom develops and markets systems,equipment and services for the railway sector.
Alstom manages the widest range of solutions in the market – from high-speed trains to metros and tramways – and associated maintenance, modernisation, infrastructure and signalling solutions.
Alstom is a world leader in integrated railway systems.
It recorded sales of €6.2 billion and booked €10 billion of orders in the 2014/15 fiscal year. Headquartered in France, Alstom is present in over 60 countries and employs 32,000 people today.