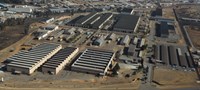 Alstom signed an agreement to purchase a 51% share in the South African rail company CTLE (Commuter Transport & Locomotive Engineering), specialized in the modernisation of trains, from South African companies CTE and IDC which will remain shareholders.
Once this agreement is finalised, and upon approval by the South African antitrust authorities, Alstom will launch the integration project of CTLE which aims to reinforce its structure through the development of local competencies and the support of Alstom's experts. This integration will extend the activities of CTLE which will be able to offer a complete portfolio including infrastructure, signalling, trains and components, as well as services to better address Southern Africa's railway transport needs.
Based in the region of Ekurhuleni in Nigel, east of Johannesburg, CTLE employs 450 employees and is fully compliant with Black Economic Empowerment principles. It has a 80,000 m2 manufacturing facility and generated a turnover of more than €15 million in 2014.
This acquisition strengthens Alstom's presence in the region and allows the creation of a stronger industrial and commercial base. It also allows Alstom to offer a broader range of rail products and solutions to better address the region's transport needs.
Likewise, this operation enables CTLE to benefit from Alstom's global leadership in rail transport, new technologies, as well as its world-class tools and processes. Through growth, it will also support the creation of jobs and enable skills development among the existing staff. Moreover, the partnership will enable the company to obtain stronger financing capabilities to develop its business in both domestic and export markets.
"We are delighted to sign this agreement with our South African partners. This is a win-win partnership that will strengthen the rail sector in South Africa, boost its economy and, in the long term, address the needs of other countries in the Southern African region" said Gian-Luca Erbacci, Senior Vice President of Alstom Middle-East and Africa.
Alstom is already present in South Africa through its local joint venture Gibela and is involved in one of the country's biggest ever transport projects through the supply of 600 X'Trapolis Mega commuter trains to the national rail company PRASA (Passenger Rail Agency of South Africa).
About Alstom
As a promoter of sustainable mobility, Alstom develops and markets systems, equipment and services for the railway sector. Alstom manages the widest range of solutions in the market – from high-speed trains to metros and tramways – and associated maintenance, modernisation, infrastructure and signalling solutions. Alstom is a world leader in integrated railway systems. It recorded sales of €6.2 billion and booked €10 billion of orders in the 2014/15 fiscal year. Headquartered in France, Alstom is present in over 60 countries and employs 32,000 people today.