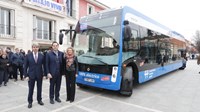 The Aranjuez city local operator AISA has signed a contract with Alstom to incorporate the innovative Alstom Aptis ebus into its urban vehicles fleet. With this signature, the historical and world heritage city of Aranjuez will become the first municipality in the Community of Madrid (not considering the capital) to incorporate a 100% high capacity electric vehicle into the Consorcio Regional de Tramportes de la Comunidad de Madrid (Madrid Regional mobility services Consortium).
Contract signature follows a several-days-test in which the bus, manufactured by Alstom, has demonstrated its adaptability, efficiency and perfect integration in the urban environment and within the rest of the operator's fleet. The Madrid regional operator CRT (Consorcio Regional de Transportes) expects Aptis to enter into service on one of the lines running through the historic centre of the town before the end of the year.
"This is the first commercial success of Aptis in Spain, which we hope to be followed by others throughout this year. During the tests carried out in different Spanish cities, our innovative electric bus has generated great expectation both among operators and among users. This contract constitutes a major new step for Alstom, which aims to be the most innovative world actor for sustainable, smart mobility", highlights Antonio Moreno, Alstom in Spain Managing Director.
"Mobility in the 21st century is sustainable, or it will not be. That is why I am convinced that this first experience will continue. Not only for environmental reasons but, also, because it is a real opportunity to evolve towards a more efficient, sustainable, comfortable and attractive public transport that contributes to decongesting streets and roads" said the Minister of Transportation, Mobility and Infrastructures of the Community of Madrid, Ángel Garrido.
Aptis is 100% electric, so in addition to decarbonising and protecting the environment, it takes care of the architecture and monuments of Aranjuez, an Unesco World Heritage Site.
About Alstom

As a promoter of sustainable mobility, Alstom develops and markets systems, equipment and services for the transport sector. We offer a complete range of solutions (from high-speed trains to metros, tramways and e-buses), passenger solutions, customised services (maintenance, modernisation), infrastructure, signalling and digital mobility solutions. Alstom is a world leader in integrated transport systems.