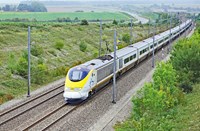 Alstom has obtained an order by Deutsche Bahn AG (DB) to retrofit 19 additional ICE1 high-speed trains with the newest ETCS signalling standard. The retrofitting work, worth more than €10 million, is scheduled to be completed by September 2021.
The project is a follow-up contract for the ICE 1, of which Alstom had already retrofitted 39 trains for the commissioning of the VDE 8 high-speed line connecting Berlin and Munich. Since the opening of the high-speed line passenger numbers have more than doubled.
'We are delighted that Deutsche Bahn has again passed a vote of confidence in Alstom for this complex retrofit. This is a further step towards making Germany fit for digital rail guarantees Deutsche Bahn a uniform and flexibly deployable ICE fleet', says Dr. Joerg Nikutta, Alstom Managing Director Germany & Austria.
The contract includes development, design and manufacture of the digital signalling system ETCS Level 2 Baseline 3 as well as its installation, connection to existing train control systems and commissioning. The new system will ensure a continuous communication between the vehicle and the track.
The retrofitting work will be implemented in cooperation with several Alstom sites: Berlin, Braunschweig (installation design and project management), Charleroi, Belgium (product development, validation and assembly for ETCS) and Lyon/Villeurbanne, France (manufacture of components). The conversion and recommissioning of the vehicles will be carried out at the ICE-plant in Hamburg-Eidelstedt.
With 15 years of experience putting into service ERTMS Level 2 digital signalling solutions, Alstom is a global pioneer in its development and implementation. With projects in 30 countries, Alstom has installed nearly 40% of the Trackside ERTMS Level 2 equipment in service in Europe and equipped over 8,000 trains of 200 different types with its Atlas On-board ERTMS solution. Atlas is a scalable solution that can be adapted to all types of traffic and operational needs: passengers and freight, high-speed or suburban.
About Alstom

As a promoter of sustainable mobility, Alstom develops and markets systems, equipment and services for the transport sector. We offer a complete range of solutions (from high-speed trains to metros, tramways and e-buses), passenger solutions, customised services (maintenance, modernisation), infrastructure, signalling and digital mobility solutions. Alstom is a world leader in integrated transport systems.