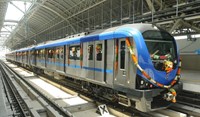 Alstom has been awarded a contract worth over €150 million by Lucknow Metro Rail Corporation (LMRC) to provide metro trainsets and a signalling solution for the new metro network of the city of Lucknow.
Alstom will supply 20 Metropolis trainsets, each composed of four metro cars. Each car will be fitted with air conditioning and a passenger information system for a high level of passenger comfort. Alstom will also provide Urbalis, its Communication Based Train Control (CBTC) solution which controls the movement of the trains, enabling them to run at higher frequencies and speeds in total safety. The headway of the Lucknow metro will be 100 seconds.
"We are delighted that LMRC has entrusted Alstom with the supply of its first metro. This is an important project for Lucknow's inhabitants and its visitors as they will soon be able to commute from the north to the south of the city onboard a metro that is safe, fast, reliable and environmentally friendly," said Dominique Pouliquen, Senior Vice-President Alstom Transport Asia-Pacific.
Lucknow is the capital of Uttar Pradesh. The new metro line will be around 23 km long and include 22 stations of which 19 elevated and 3 underground. The project shall be carried out in two phases, starting with a first corridor of 8.4 km-long. The line is expected to carry about 430,000 passengers per day in the first year, increasing to over 1 million by 2030.
The metro cars will be produced in Alstom's Sri City train manufacturing facility in India. The signalling system will be jointly supplied by Alstom's sites in Bangalore, India and Saint-Ouen, France.
Alstom has strong presence in India where the company has been awarded important metro projects for cities including Chennai, Delhi and Kochi.
Alstom's Metropolis is a world leading, proven, safe and reliable train that has been sold in over 20 cities around the world, including Singapore, Sao Paulo, Shanghai, Amsterdam and Paris. More than 4,500 Metropolis cars have been sold worldwide since 1998.

About Alstom Transport
A promoter of sustainable mobility, Alstom Transport develops and markets the most complete range of systems, equipment and services in the railway sector. Alstom Transport manages entire transport systems, including trains, signalling, maintenance and modernisation, infrastructure and offers integrated solutions. Alstom Transport had sales of €6.2 billion and booked €10 billion of orders in the fiscal year 2014/15. Alstom Transport is present in over 60 countries and employs around 28,000 people.