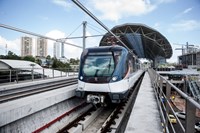 Alstom, leader of a consortium with CIM, Sofratesa, Thales and TSO, was awarded by Consórcio Línea 2 a contract to supply an integrated system to equip metro Line 2 of Panama. Alstom's share of the contract amounts to around €300 million. The new line is expected to start in 2019.
Line 2 will be 21 km long and include 16 stations. Elevated, the line will run from San Miguelito to Nuevo Tocumen and will be able to carry up to 40,000 passengers per hour and per direction. Line 2 will interconnect with line 1 which was supplied by Alstom and inaugurated in April 2014. With the new line, Panama metro network will be 37 km wide.
"After line 1 which experiences a great success since it has entered into operation, we are proud to be awarded line 2 of Panama metro. With an extended metro network, better connectivity and greater transport capacity, I am confident that more people will be commuting daily onboard a system that is reliable, smooth, and environmental-friendly" said Michel Boccaccio, Senior Vice President of Alstom Transport in Latin America.
Alstom will supply an integrated metro system which includes 21 Metropolis trainsets as well as traction substations including Hesop reversible substation, and Urbalis – Alstom Communication Based Train Control (CBTC) solution which controls the movement of the trains and enables trains to run at higher frequencies and speeds in total safety. In the case of line 2 of Panama metro, the headway between two trains will be 90 seconds.
The Metropolis trainsets will be produced in Santa Perpetua factory in Spain where the metro trainsets for line 1 were manufactured.
From trains to services and from signalling to infrastructure, Alstom is a leading supplier of integrated mobility solutions. Alstom manages all the stages in setting up an integrated metro system, from its design, to its complete validation and commissioning. With 16 integrated metro projects awarded in cities such as Guadalajara (Mexico), Los Teques (Venezuela) and Riyadh (Saudi Arabia) - one of the largest turnkey metro projects ever launched, Alstom is a world leader in this area.
About Alstom Transport
A promoter of sustainable mobility, Alstom Transport develops and markets the most complete range of systems, equipment and services in the railway sector. Alstom Transport manages entire transport systems, including trains, signaling, maintenance and modernization, infrastructure and offers integrated solutions. Alstom Transport had sales of €6.2 billion and booked €10 billion of orders in the fiscal year 2014/15. Alstom Transport is present in over 60 countries and employs around 28,000 people.