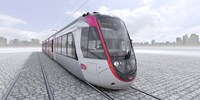 Alstom will supply 15 Citadis Dualis to the region of Ile-de-France following the second exercise of an option by SNCF on behalf of STIF. The order, which is part of a framework contract signed in 2007 with SNCF for the French regions, is worth 75 million euros. The Citadis Dualis tram-trains will be delivered from October 2017 onwards, and their entry into commercial service is scheduled for 2019 on the section between Livry-Gargan and Clichy Montfermeil.
Designed to meet increased mobility needs between urban and suburban networks, Citadis Dualis links the centre of town with the suburbs without having to change trains, combining the advantages of the train with those of the tram. Designed along the lines of Alstom's Citadis tram, the Dualis version retains the fundamental characteristics which secured its success: modularity, accessibility, reliability. Dualis can run on a tramway network just as easily as on a regional rail network thanks to certain adaptations in terms of power, security and comfort. This configuration creates a polyvalent mode of transport: with the same dimensions as a tram, it can circulate in town, while its performance, the same as that of a train, enables it to transport passengers at speeds of nearly 100 km/h in outlying areas without the need for changing modes of transport. Citadis Dualis contributes to sustainable mobility by revitalising urban spaces and enhancing the architectural heritage of cities.
To date, 48 Citadis Dualis tram-trains are in circulation: 24 in the Rhône-Alpes region to the west of Lyon since 2012 and 24 in Pays-de-la-Loire, which respectively entered commercial service on the lines of Nantes-Clisson and Nantes-Châteaubriant in June 2011 and February 2014. 15 tram-trains for Ile de France are currently being manufactured in Valenciennes, where this new order will also be carried out. Five other sites will be involved in the manufacturing process: Ornans for the motors, Le Creusot for the bogies, Tarbes for the traction equipment, Villeurbanne for the on-board information and passenger systems, and Saint-Ouen for the design.
Over 150 Alstom tram-trains (Citadis Dualis and Regio Citadis) have already been sold in Europe, covering over 50 million kilometres. This Alstom technology is also exported via the Citadis Spirit, tailored to the North-American market and adopted by the city of Ottawa in 2013.
About Alstom
A promoter of sustainable mobility, Alstom Transport develops and markets the most complete range of systems, equipment and services in the railway sector. Alstom Transport manages entire transport systems, including trains, signalling, maintenance and modernisation, infrastructure and offers integrated solutions. Alstom Transport had sales of €6.2 billion and booked €10 billion of orders in the fiscal year 2014/15. Alstom Transport is present in over 60 countries and employs around 28,000 people