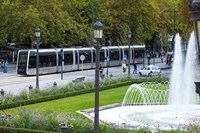 Alstom is to supply 26 Citadis tram kits to Cital, a joint-venture composed of Alstom, EMA (Entreprise Métro d'Alger) and Ferrovial to be assembled in its plant of Annaba, in the east of Algeria. Alstom's share of the contract is worth €85 million. The 26 Citadis trams were ordered by EMA to Cital for the city of Setif and will circulate on a 15.2 km long line that is scheduled to enter into commercial service in the first quarter of 2018 .
This order is part of a frame contract that was signed in 2012 by Cital and EMA for the supply of Citadis trams to serve Algerian cities. Cital was created in 2010 for the assembly and maintenance of Citadis trams in Algeria to better support the country's vast program to develop and enhance urban mobility projects. This JV is also part of Alstom's strategy to be close to its customers to better meet its mobility demand.
The Citadis trams for Setif will be 44 metres long and carry up to 302 passengers. The integral low floor and the 12 side doors will facilitate passenger flow and enable access for all, including people with reduced mobility. The tram will be equipped with air conditioning, CCTV cameras and areas for stroller and wheelchairs.
"Setif is now the seventh city in Algeria to adopt Citadis, a mode of urban transport that is environmental-friendly, pleasant, comfortable and reliable.We are pleased to collaborate with our partners on this project and to participate in the transport development of the country" said Gian-Luca Erbacci, Senior Vice-President of Alstom Middle East and Africa.
Cital's plant in Annaba will assemble the kits and test the tramways before delivery to the customer. The plant covers an area of around 46.400m² and also houses a one kilometre test track. It currently employs 90 people in the Citadis assembly lines and has the capacity of assembling five tramways a month.
Alstom has been present in Algeria for more than 60 years and has supplied integrated tramway systems to the cities of Algiers, Oran and Constantine and infrastructure for the tramways of Ouargla, Mostagamen and Setif.
About Alstom
As a promoter of sustainable mobility, Alstom develops and markets systems, equipment and services for the railway sector. Alstom manages the widest range of solutions in the market – from high-speed trains to metros and tramways – and associated maintenance, modernisation, infrastructure and signalling solutions. Alstom is a world leader in integrated railway systems. It recorded sales of €6.2 billion and booked €10 billion of orders in the 2014/15 fiscal year. Headquartered in France, Alstom is present in over 60 countries and employs 32,000 people today.