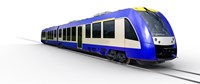 Alstom has been awarded a contract worth over €115 million from Transdev GmbH (TD) to supply 28 diesel Coradia Lint trains which are to be operated on the Augsburg diesel network 1 in Germany. Transdev GmbH, Germany's biggest private operator of busses and trains, has been awarded recently by the free state of Bavaria a contract to run the Augsburg-Landsberg, Augsburg-Füssen and Munich-Füssen network. The modern and comfortable vehicles are scheduled to enter into commercial service around Augsburg for the Transdev-subsidiary Bayerische Regiobahn GmbH from December 2018 on.
"We are pleased that our long-term customer Transdev has chosen us again. There already is a large number of our trains running in the Augsburg diesel network 2. The positive feedback shows us that the comfort in our trains is very well appreciated by the passengers", says Didier Pfleger, Alstom Vice President Germany & Austria.
The regional trains, which are to be built at Alstom's site in Salzgitter, Germany, can each transport between 225 and 485 passengers and can run at a maximum service speed of up to 140 km/h. The high flexibility on the configuration of the fleet guarantees an optimum use for the operator.
"For the expansion of our rail traffic around Augsburg starting in December 2018, we want to stick to the modern, passenger friendly and reliable trains from Alstom", says Christian Schreyer, chairman of the management board of Transdev GmbH. "They have proven themselves already with different Transdev businesses in the past."
The barrier-free access for a quick passenger flow, the spacious multi-purpose areas for wheelchairs, bicycles and prams as well as the universal toilet for disabled people and the large number of luggage racks are optimized for the passenger comfort. The Coradia Lint is provided with a 1st class area and with a dynamic passenger information system, which fully informs the passengers in real time via monitors before and during their journey. Video monitoring guarantees safety for both the passenger and the train crew.
The trains will meet the new standard for interoperability of locomotives and passenger trains.
Coradia Lint belongs to Alstom's Coradia range of modular trains which benefit from over 30 years' experience and proven technical solutions. More than 2,200 Coradia trains have been sold and 1,900 are currently circulating in Denmark, France, Germany, Italy, Luxembourg, the Netherlands, Portugal, Spain, Sweden and Canada.
About Alstom
A promoter of sustainable mobility, Alstom Transport develops and markets the most complete range of systems, equipment and services in the railway sector. Alstom Transport manages entire transport systems, including trains, signalling, maintenance and modernisation, infrastructure and offers integrated solutions. Alstom Transport had sales of €6.2 billion and booked €10 billion of orders in the fiscal year 2014/15. Alstom Transport is present in over 60 countries and employs around 28,000 people.