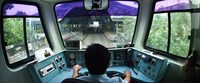 Alstom together with Bouygues Travaux Publics signed a contract with the Light Rail Manila Corporation (LRMC) to upgrade and extend the Light Rail Transit Line 1 of Manila metro. The ceremony, organized for the signature of the contract, was attended by Jesus P. Francisco, President and CEO of the LRMC, Christian Gazaignes, CEO for Bouygues Travaux Publics and Dominique Pouliquen, Senior Vice President Asia Pacific at Alstom. The contract is worth around €450 million, including approximately €160 million for Alstom. The extended line is scheduled to enter into commercial service in 2020.
With 16 million inhabitants in Manila and only three metro lines, it was necessary to alleviate congestion and reduce travel times for commuters. In 20 years, the LRT-1 line - which is serving 20 stations along its 20 km route - has experienced an increase of its daily ridership from over 400,000 to 500,000 today. The local transport authorities have thus decided to extend the current LRT line 1 and add 12 kilometres and 8 stations. Once the extension completed, the LRT-line 1 will carry about 800,000 passengers per day.
Alstom will provide an integrated metro solution which includes signalling and communication system, traction power supply and track work on the 12 km extended line including one new depot and the extension of the existing depot. Alstom will also equip Atlas 100 on-board signalling solution for 60 trains and revamp signalling system for existing 20km line.
"We are pleased to sign this contract today which aims to offer Manila's inhabitants a safe, fast and reliable transportation system which takes part in the economic development of the Philippines. Alstom is looking forward to providing customers and partners its expertise in integrated transport solutions" said Dominique Pouliquen.
About Alstom
From trains to services and from signalling to infrastructure, Alstom is a leading supplier of integrated mobility solutions. Alstom manages all the stages in setting up an integrated metro system, from its design, to its complete validation and commissioning. With 17 integrated metro projects awarded in cities such as Panama (L. 1 and 2), Guadalajara (Mexico), Los Teques (Venezuela) and Riyadh (Saudi Arabia) - one of the largest turnkey metro projects ever launched, Alstom is a world leader in this area.