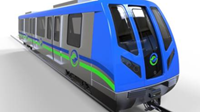 Alstom together with Taiwanese engineering and contracting services company CTCI has won a contract from Systemwide E&M Project Office Department of Rapid Transit System Taipei City Government (SEMPO) to supply an integrated metro system for Taipei Metro Line 7 phase one. The total contract value is 378 million euros, while Alstom's share is worth close to €220 million.
Taipei Metro Line 7, also called Wanda Zhonghe Shulin Line, is a medium capacity rapid transit line. Phase one is 9.5 km long with 9 stations connecting Taipei City with New Taipei City Zhonghe district and Tuchen district in 15 minutes.
As consortium leader, Alstom will supply 19 Metropolis trains, Urbalis CBTC driverless signalling system, Supervisory Control and Data Acquisition (SCADA) system, and platform screen doors. Besides, Alstom will work together with CTCI on project management and system integration. CTCI will provide the track work, power supply, depot equipment, Telecommunication and Ticketing systems.
"Alstom is very pleased to win this contract, supporting Taipei to extend its efficient, reliable and sustainable transport system. With its international and domestic service proven references in integrated metro systems, and its local presence in Taiwan market, Alstom is confident to deliver this project with a high level of excellence", said Ling Fang, Senior Vice President, Asia Pacific at Alstom.
Alstom is world leader in integrated metro systems. So far, Alstom has won 20 integrated metro system projects in 16 countries across four continents, including Singapore Circle Line, Montreal Réseau express métropolitain (REM) line, Hanoi Line 3 and Riyadh metro yellow, green and purple line.
Alstom also plays a leading role in driverless metros worldwide. So far, 26 driverless metro lines worldwide have ordered Alstom signalling and/or rolling stock solutions. 12 driverless metro lines are in Asia Pacific, including Taichung metro line, Singapore North East Line, Circle Line and Thomson – East Coast Line and Hong Kong South Island Line.
Alstom has been in Taiwan for over 37 years. It provides signalling systems to all but one of Taipei's metro lines, and is currently supplying driverless signalling system for Taichung metro line. In 2017, Alstom won its first tramway project in Taiwan, supplying its latest Citadis tram to Kaohsiung tramway line phase two.
About Alstom

As a promoter of sustainable mobility, Alstom develops and markets systems, equipment and services for the transport sector. Alstom offers a complete range of solutions (from high-speed trains to metros, tramways and e-buses), passenger solutions, customised services (maintenance, modernisation), infrastructure, signalling and digital mobility solutions. Alstom is a world leader in integrated transport systems.