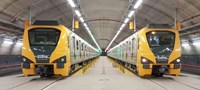 Alstom has been awarded a contract worth around €60 million [1] by SBASE (Subterráneos de Buenos Aires) to provide 60 Metropolis cars for line D of Buenos Aires metro network. The trains are expected to be delivered in 2017.
Part of a metro network that counts a total of six lines which span nearly 60 kilometers, line D is over 10 km-long and includes 16 stations. Through this new order, SBASE will offer additional comfort to the nearly 360,000 passengers commuting every day on line D.
Each Metropolis trainset is composed of six cars to accommodate up to 1,500 passengers. To facilitate passenger flow, the metro trainset features four automatic doors per side and large gangways. To enhance passenger experience, the metro is equipped with digital line-map display, LCD screens for video broadcast, CCTV [2] and air conditioning.
As part of the contract, Alstom will also supervise the maintenance of the Metropolis trainsets during their first two years of operation.
"We are pleased to be awarded this new contract which reinforces our presence in Argentina. It is an excellent endorsement of our strong relationship with SBASE who has already ordered us more than 200 Metropolis cars, as well as signaling and services. With the new Metropolis, commuters will certainly enjoy travelling aboard a train that is sustainable, comfortable and reliable", says Michel Boccaccio, Senior Vice President of Alstom in Latin America.
The Metropolis trainsets will be produced at Alstom's Lapa plant, in São Paulo state, in Brazil.
With more than 5,000 Metropolis cars sold to over 20 cities, Alstom is one of the largest metro suppliers in the world. Designed to address the specific needs of each city, Metropolis offers a large range of options and configurations, a high level of passenger comfort and innovative features to optimize energy consumption and life cycle costs.
In addition to the different urban mobility projects led by Alstom in Argentina, the company has also been involved in mainline projects including the maintenance and modernization of locomotives for freight and passenger transport services.
[1] Booked in Q4 of fiscal year 2015/16
[2] Closed-circuit television
About Alstom
From trains to services and from signalling to infrastructure, Alstom is a leading supplier of integrated mobility solutions. Alstom manages all the stages in setting up an integrated metro system, from its design, to its complete validation and commissioning. With 17 integrated metro projects awarded in cities such as Panama (L. 1 and 2), Guadalajara (Mexico), Los Teques (Venezuela) and Riyadh (Saudi Arabia) - one of the largest turnkey metro projects ever launched, Alstom is a world leader in this area.