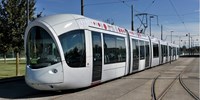 Alstom is to supply seven Citadis trams to SYTRAL (Syndicat des Transports de l'Agglomération Lyonnaise) in addition to the fleet of trams already in circulation on the 61 kilometres of track that currently make up the network. The order, worth over 20 million euros, represents the exercise of an option on a contract signed in 2011. SYTRAL, which has ordered 92 Citadis since 1998, owns one of the biggest tram fleets in France.
The new Citadis trams will be identical to those in circulation on line T3. 43 metres long, they will be able to transport up to 400 passengers, equivalent to 6 buses. The Citadis trams offer optimal on-board journey quality with a fully low floor, air conditioning, large windows and a video surveillance system. 99% recyclable, Citadis contributes to the preservation of the environment.
"This new order is undeniable proof of the trust placed by our historic client in Alstom's Citadis. The SYTRAL can be sure of using high-quality, tried and tested material as it benefits from a return of experience of over 2000 Citadis sold to 50 cities worldwide," says Jean-Baptiste Eyméoud, Senior Vice President Alstom France.
The trams will be produced in Alstom's manufacturing sites in France: La Rochelle for the design and assembly, Ornans for the motors, Le Creusot for the bogies, Tarbes for the traction equipment, Villeurbanne for the on-board electronics and Saint-Ouen for the design.
About Alstom
As a promoter of sustainable mobility, Alstom develops and markets systems, equipment and services for the railway sector. Alstom manages the widest range of solutions in the market – from high-speed trains to metros and tramways – and associated maintenance, modernisation, infrastructure and signalling solutions. Alstom is a world leader in integrated railway systems. It recorded sales of €6.2 billion and booked €10 billion of orders in the 2014/15 fiscal year. Headquartered in France, Alstom is present in over 60 countries and employs 32,000 people today.