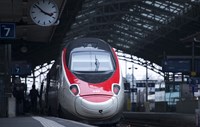 Alstom has been awarded a contract by SBB, the Swiss Federal Railways, to upgrade the on-board train control systems of its entire Astoro fleet, which represents 19 Pendolino high-speed trains previously delivered by Alstom. This contract is worth around €16M.
The trains will be equipped with the ATLAS ETCS[1] Level 2 baseline 3, the newest application of ERTMS (European Rail Traffic Management System), and will have the national system as a specific transmission module piloted by ERTMS.
The train will be able to operate under this new ETCS baseline 3 system in four countries: Switzerland, Italy, Germany and Austria. This signalling project is also the first to be homologated by the European Union Agency for Railways (ERA).
This project will be led by Alstom's signalling teams based in Bologna and Florence in Italy. Alstom's site in Savigliano will also be involved for the necessary adaptation of the trains. Alstom's teams in Neuhausen (Switzerland) will take part in the project supervision and be in charge of the customer management.
Alstom is a world leader in ERTMS technology. The company has been awarded contracts in 23 countries and was also the first company to equip a high-speed line (Rome-Naples, Italy), in addition to a transnational high-speed line (from Liège to Belgium to the German border), a high-traffic line (Mattstetten-Rothrist, Switzerland) and the line dedicated to freight traffic (the Betuweroute line in the Netherlands).
About Alstom

As a promoter of sustainable mobility, Alstom develops and markets systems, equipment and services for the transport sector. Alstom offers a complete range of solutions (from high-speed trains to metros, tramways and e-buses), passenger solutions, customised services (maintenance, modernisation), infrastructure, signalling and digital mobility solution