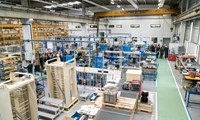 Alstom Transport has inaugurated its new regional "Services" centre in an entirely renovated new building at its site in Tarbes. The inauguration took place in the presence of Jean Glavany and Jeanine Dubie, deputies of the Hautes-Pyrénées, Pierre Fleury, site director, and Bénédicte Ganivet, director of the Services activity in France.
After ten months of work, the new building, which has an area of over 1,600 m², opened its doors to the 56 employees of the Services activity in mid August 2015. It comprises a repair shop, test platforms, an area for storage, a spare parts shop and office space. With this investment, Alstom strengthens its foothold in the Midi-Pyrénées region, confirming its ambition to contribute to the economic and social development of the French regions.
The Alstom Transport site of Tarbes employs approximately 630 people, including 300 engineers and managerial staff. Tarbes is Alstom Transport's global centre of excellence for traction systems, power modules and switchgear. Furthermore, an investigative test platform with a surface of over 6,000 m² enables the teams to conduct tests for the development and validation of drive trains, and to reproduce the catenary voltages of rail networks all over the world.
The Services activity in Tarbes understands the repair and maintenance of products manufactured by Alstom, as well as equipment not produced by the company, such as air conditioning and pantographs. Added to this is an activity for spare parts. Finally, part of the activity is devoted to managing the obsolescence of on-board train equipment. In this manner, the Services activity contributes to the satisfaction of clients while guaranteeing the proper functioning of Alstom's trains during their commercial service (25 to 35 years).
About Alstom Transport
A promoter of sustainable mobility, Alstom Transport develops and markets the most complete range of systems, equipment and services in the railway sector. Alstom Transport manages entire transport systems, including trains, signalling, maintenance and modernisation, infrastructure and offers integrated solutions. Alstom Transport had sales of €6.2 billion and booked €10 billion of orders in the fiscal year 2014/15. Alstom Transport is present in over 60 countries and employs around 28,000 people. Present on 12 sites in France, Alstom Transport is the leading French railway company and contributes to the vitality of local economies. Its approximately 9000 employees in France provide a pool of expertise to serve French and international clients. A job at Alstom creates about three amongst its suppliers.