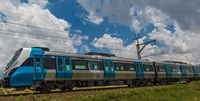 Alstom's first X'Trapolis Mega commuter train for PRASA has successfully arrived on time to PRASA's Wolmerton depot. This is the first train of the 600 ordered. The train is now set to enter into dynamic testing phase in the South African railway. The train arrived from Alstom's manufacturing site of Lapa in Brazil where the 20 first trains are being manufactured. The 580 others will be produced in South Africa in a facility that will be built in Dunnottar (Ekurhuleni Municipality). The project - which also includes the supply of technical support and spare parts - is led by a local Joint Venture formed by Alstom and South African partners called Gibela.
"Alstom – through Gibela – is thrilled to participate in one of the biggest transport project in South Africa. The arrival of this first train in the country marks the beginning of a great adventure. We are pleased to accompany PRASA in the railway development of South Africa and offer mobility solutions that will offer people from suburbs of Johannesburg, Cape Town, Durban, and Pretoria a drastically improved passenger experience" said Gian-Luca Erbacci, Senior Vice-President of Alstom for Middle East and Africa.
The X'Trapolis Mega train, which has already been submitted to static tests at the Lapa's facility, is now entering into a dynamic testing phase in the South African rail. During this phase, the train will go through various tests including speeds up to 132 km/h. The tests on PRASA test tracks and mainline will focus on traction and braking performances up to crush load. Other tests will address gauge checking, journey time and functional performances including: HVAC, PACIS, Multiple Unit operation, the signalling, or the monitoring system which enable to remotely diagnostic the health of the train's components and to plan the maintenance accordingly. The second train is due to arrive in South Africa in early 2016 to follow similar tests.
New train from the Alstom's X'Trapolis suburban range, X'Trapolis Mega runs at a maximum speed of 120 km/h. The train for PRASA is composed of six cars and is able to accommodate up to 1,200 passengers. There are three doors per car and per side facilitating passenger flows during peak hour while reducing headway between trains. The train is equipped with a real-time passenger information system and CCTV.
The train uses 31% less energy than the train operated today thanks to the regenerative braking system and to the fact that it is made of stainless steel.
Alstom - which is present in South Africa through Gibela - has recently announced an agreement to purchase a 51% share in the South African rail company CTLE (Commuter Transport & Locomotive Engineering) reinforcing therefore its presence in South Africa.
About Alstom
As a promoter of sustainable mobility, Alstom develops and markets systems, equipment and services for the railway sector. Alstom manages the widest range of solutions in the market – from high-speed trains to metros and tramways – and associated maintenance, modernisation, infrastructure and signalling solutions. Alstom is a world leader in integrated railway systems. It recorded sales of €6.2 billion and booked €10 billion of orders in the 2014/15 fiscal year. Headquartered in France, Alstom is present in over 60 countries and employs 32,000 people today.