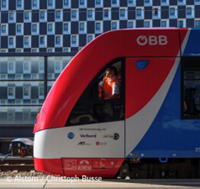 Alstom's Coradia iLint, the world's first hydrogen fuel cell train, has just completed three months of successful test operation on ÖBB's (Austrian Federal Railways) regional lines. This comes just after it received official approval from the highest railway authority in the country, the Austrian Federal Ministry for Climate Protection, Environment, Energy, Mobility, Innovation and Technology (BMK).
These important milestones make Austria the second country in Europe, after Germany, to fully approve of the Coradia iLint as an emission-free alternative to diesel multiple units. Alstom once again underlines its world-leading position in hydrogen mobility by rail - no other train manufacturer can currently offer a proven, tested hydrogen train ready for series production.
"We are immensely proud to confirm that the Coradia iLint has proven that it is suitable for all service routes – even on steep sections its performance is convincing. Not to mention our pride in the fact that the train has now received official approval in Austria. I also congratulate OBB for being a pioneer in testing hydrogen technology on rail in Austria," said Gian Luca Erbacci, Senior Vice President of Alstom Europe.
During the three months of testing on four demanding routes in southern Lower Austria, Vienna and eastern Styria, ÖBB and its passengers witnessed operability and performance of the new drive technology based on fuel cells - even on steep track sections and under the most varied climatic conditions. ÖBB is very positive about the hydrogen train and the test run. Following the successful operation in Austria, the data collected will now be analysed to further perfect the technology for the context.
About Alstom

Alstom's ambition is to accompany all transportation stakeholders in meeting tomorrow's mobility challenges. We strive to provide them with the most efficient and digital mobility systems, while further improving the environmental friendliness of our solutions.