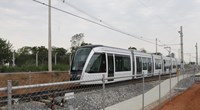 Alstom's latest Citadis tram factory in Taubaté in the state of São Paulo, Brazil, is now equipped with a test track to perform static and dynamic tests on the trams before delivery to the customer for final tests. This is Alstom's first tramway factory in Latin America to be equipped with a testing facility. The first trams to be tested are destined for the city of Rio de Janeiro, which ordered 32 Citadis trams from Alstom in 2013 and are due to enter into commercial service from 2016 onwards.
The test track - which is approximately 400 metres long - is powered via catenaries, enabling Citadis trams to run at speeds of 40 km/h. The elements of the trams being tested are the traction and braking, ecopack system (supercapacitors), air conditioning and acoustic comfort to guarantee that the tram is safe, reliable, efficient and capable of being inserted smoothly into the urban environment. The tested trams will run about 10 kilometres over a period of four days. Six Alstom employees are fully dedicated to this task.
"With the tests now being carried out where the trams are produced, we can guarantee faster delivery to our customer, as well as reducing the testing phase on the customer's tramway line," says Michel Boccaccio, Senior Vice President of Alstom Transport in Latin America.
Alstom invested around 15 million euros in the Taubaté facility, which was built to better address Brazil's mobility needs and, in the near future, those of Latin America. The tram is a relevant solution for medium-sized and large cities that face population increases, congestion and pollution. A tram uses four times less energy than a bus and 10 times less energy than a car, as well as smoothly interconnecting with other modes of transport.
About Alstom Transport
A promoter of sustainable mobility, Alstom Transport develops and markets the most complete range of systems, equipment and services in the railway sector. Alstom Transport manages entire transport systems, including trains, signalling, maintenance and modernisation, infrastructure and offers integrated solutions. Alstom Transport had sales of €6.2 billion and booked €10 billion of orders in the fiscal year 2014/15. Alstom Transport is present in over 60 countries and employs around 28,000 people.