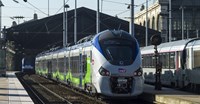 Since the transition to the 2016 winter timetable, SNCF and the region of Picardy offer a daily return service between Laon and Paris for 1000 passengers, thanks to the use of Alstom's Regiolis trains in multiple units of 3.
The Regiolis trains have been in commercial service in the region of Picardy since 25 April 2014. The region has ordered 17 Regiolis trainsets consisting of 6 cars each in their dual-mode version (diesel or electric dual voltage). 110 metres long, each trainset can accommodate up to 334 seated passengers. 15 trainsets have been delivered to date and have travelled over 1.3 million kilometres; the final trainset will be delivered at the end of the first quarter of 2016. Thanks to the Regiolis certification programme, as of March 2015 SNCF and the French regions can operate their material in multiple units of three and four trainsets, enabling greater flexibility in line with peak travel times.
Regiolis belongs to Alstom's Coradia range of trains. Thanks to its modular design, it can be adapted to the needs of every organising authority as well as different types of use: suburban, regional and intercity. It comes in three lengths (56, 72 or 110 metres) and offers optimal comfort for passengers, whatever the length of the journey. The train is both ecological and economical, thanks to its low energy consumption and reduced maintenance costs. To date, 216 Coradia Polyvalent trains have been ordered by nine[1] French regions.
The production of Coradia Polyvalent creates over 4000 jobs in France with Alstom and its suppliers. Six of Alstom's twelve sites in France are involved in the project: Reichshoffen for the design and assembly, Ornans for the motors, Le Creusot for the bogies, Tarbes for the traction, Villeurbanne for the on-board electronics and Saint-Ouen for the design.
About Alstom
A promoter of sustainable mobility, Alstom Transport develops and markets the most complete range of systems, equipment and services in the railway sector. Alstom Transport manages entire transport systems, including trains, signalling, maintenance and modernisation, infrastructure and offers integrated solutions. Alstom Transport had sales of €6.2 billion and booked €10 billion of orders in the fiscal year 2014/15. Alstom Transport is present in over 60 countries and employs around 28,000 people