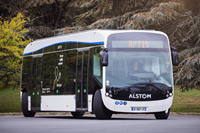 Aptis, our innovative e-bus, will be the official vehicle of the V European Electric Vehicle Congress, to be held in Madrid on October 23 and 24. Being the official vehicle, Aptis will be exhibited at the Congress and will transfer institutions and assistants to the venue.
Aptis is designed to offer cities a clean and efficient transport system solution. Based on Alstom expertise in trams and vehicles on tires, motors and traction systems, Aptis incorporates the advantages of a tram to enhance both passenger experience and vehicle operation. This is the first time that Alstom has diversified into a non-rail product to develop its range of solutions, thus providing customers with the full spectrum of shared, electric – and therefore clean – urban transportation.
Among others, the Congress will have the assistance of Ms. Teresa Ribera, acting Minister for the Ecological Transition and Mr. Miguel Arias Cañete, European Commissioner for Climate Action, in charge of the closing ceremony on October 24. In this edition, the Congress, whose celebration coincides with the International Day of Climate Change, will analysis the current and future situation of electric mobility from the industrial, technological, energy and social perspective, both in Spain as in Europe.
"With annual global urban transport emissions expected to double to nearly one billion tonnes of CO2 equivalent by 2025, public authorities are more concerned than ever about the environmental impact of transportation. Alstom is already supporting the transition to sustainable transport systems by designing and delivering innovative, environmentally friendly, efficient and appealing rail solutions. The company decided to launch a new type of vehicle to complete its emission-free, 100% electric portfolio: Aptis" underlines Antonio Moreno, Managing Director Alstom Spain .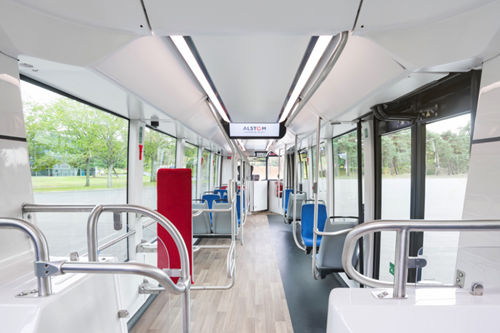 Alstom has presented the first serial vehicle of its Aptis electric bus on October 18 at Busworld 2019. After the four prototypes that have been on the roads of many European countries, including Spain, for the past two years, this new design incorporates feedback from passengers and transport operators.
This first serial vehicle is based on an optimised global architecture requiring fewer spare parts references and considerably facilitating maintenance operations. Thanks to a wheel steering angle of more than 40°, its ease of insertion increases significantly. The 15% reduction in the total weight of the vehicle, combined with the use of new, more efficient and state of the art batteries, substantially increases range. Aptis now accommodates more passengers while still offering them more fluidity thanks to large sliding doors.
In addition to the technical improvements, Aptis can also boast significant improvements to passenger comfort. A new air-conditioning system that (fully electrical heat-pump) maximises thermal comfort and the panoramic rear lounge has been enhanced to give a feeling of increased space. The new hydraulic suspension allows superior comfort and sound insulation, making Aptis one of the quietest and most innovative buses on the market.
Aptis has already been chosen by Paris in the context of Europe's largest call for tender for electric buses, as well as by the cities of Strasbourg, Grenoble, La Rochelle and Toulon. Upcoming milestones include ongoing tests in Spain with the ground-based recharge solution SRS and the training of hundreds of drivers in a new driving experience ahead of the first traffic releases, scheduled for the end of the year in Strasbourg.
About Alstom

Alstom's ambition is to accompany all transportation stakeholders in meeting tomorrow's mobility challenges. We strive to provide them with the most efficient and digital mobility systems, while further improving the environmental friendliness of our solutions.