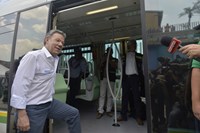 Juan Manuel Santos, President of Colombia, Sergio Fajardo Valderrama, Governor of Antioquia, Anibal Gaviria Correa, Mayor of Medellín, Claudia Patricia Restrepo, General Director of Metro de Medellin, Michel Boccaccio, Senior Vice President of Alstom Transport Latin America, and Olivier Brihaye, Sales Director of NTL Latin America have inaugurated on October 20 the Ayacucho tramway line, in Medellin, Colombia.
The line - which has been partially open since October 15 - is scheduled to be fully operational as from November 30. It is 4.3 km-long, includes 9 stations and is expected to transport 85,000 passengers per day.
In April 2012, the city of Medellin ordered 12 Translohr STE5 trams (each 39 metres long) from NTL. The NTL trams are highly efficient and offer exceptional benefits in terms of their insertion into the urban landscape, including a clearance gauge of 5.18 metres and a turning radius of 10.5 meters. The trams can easily run on gradients of up to 13%, particularly relevant for the Ayacucho line which includes slopes with gradients of 12%. This enables cost-optimization of the whole system: less civil works, reduced infrastructure costs and smaller maintenance facilities.
Alstom, as leader of the consortium UT Alstom-Sytecsa, provides the power supply for the entire project. Alstom's scope included the project management, engineering, procurement, testing and commissioning of the medium voltage network and its intake substation, and the traction substations.
With this new public transport service and following the Alstom's principles of environmental care, about seven thousand tons of CO2 annually will be reduced in Medellin. In addition, an important socio-economic impact will take place in the surrounding areas of the project, improving the mobility costs and time.
Alstom develops solutions suited to all urban environments, meeting the different expectations of passengers and cities. Present in Colombia for over 60 years, Alstom has strong capabilities in engineering, manufacturing, project management and the supply of products and solutions for infrastructure.
About NTL
Provider of innovative solutions for the public transport sector, NTL designs and manufactures the Translohr tramways on tyres. At the very heart of current issues of eco-mobility, the solutions developed by NTL are fully in line with the new generation of urban transport systems: electrical, offering high accessibility and capacity. Translohr tramways on tyres combine the advantages of a guided system with its central rail and the assets of a tyre vehicle, which provide high insertion ability and gradient performance: short turning radius, climbing steep slopes with gradients of up to 13%, operational silence.
About Alstom Transport
A promoter of sustainable mobility, Alstom Transport develops and markets the most complete range of systems, equipment and services in the railway sector. Alstom Transport manages entire transport systems, including trains, signalling, maintenance and modernisation, infrastructure and offers integrated solutions. Alstom Transport had sales of €6.2 billion and booked €10 billion of orders in the fiscal year 2014/15. Alstom Transport is present in over 60 countries and employs around 28,000 people.