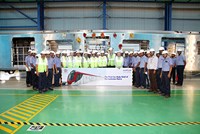 Alstom in India has unveiled the first car body shell of the Lucknow Metro at Sricity, Chennai, where the metro trainsets are produced. Attending the ceremony earlier this month were the Lucknow Metro Managing Director, Kumar Keshav and Secretary Housing Pandhari Yadav from the U.P. Government.
Manufacturing of the first train commenced at the end of May and tremendous efforts have been put on site to ensure that the first car body shell was ready in record time. Alstom expects to deliver the first trainset of this order before the end of November 2016.
The Lucknow Metro contract was awarded in September 2015. Under this contract, Alstom will supply 20 Metropolis trainsets, each composed of four metro cars. Alstom is also providing Urbalis, its Communication Based Train Control (CBTC) solution which controls the movement of the trains, enabling them to run at higher frequencies and speeds in total safety. The line is expected to carry about 430,000 passengers per day in the first year, increasing to over 1 million by 2030.
Following the Kochi metro, this is the second 'Made in India' metro project that is being completely developed and manufactured by Alstom at the Bangalore, Sricity and Coimbatore facilities. The facility has already delivered the first two trainsets of the Kochi Metro and 28 trainsets of the Chennai Metro
About Alstom
From trains to services and from signalling to infrastructure, Alstom is a leading supplier of integrated mobility solutions. Alstom manages all the stages in setting up an integrated metro system, from its design, to its complete validation and commissioning. With 17 integrated metro projects awarded in cities such as Panama (L. 1 and 2), Guadalajara (Mexico), Los Teques (Venezuela) and Riyadh (Saudi Arabia) - one of the largest turnkey metro projects ever launched, Alstom is a world leader in this area.