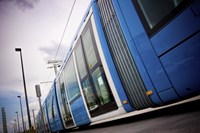 Alstom is to supply 22 Citadis trams to the Syndicat des Transports d'Ile de France (STIF) for line T9 in Ile-de-France, for an amount of 70 million euros. This is part of a framework contract which also covers the potential supply of 68 additional trams for lines T9 and T10. The trams will be delivered from mid-2019 onwards with commercial entry into service scheduled for October 2020. Lines T9 (10 km) and T10 (8.2 km) will respectively serve Porte de Choisy (Paris) to Orly ville, and Clamart to Antony. 95,000 passengers per day are expected on these two lines by 2021.
44 metres long, Citadis X05 for line T9 will be able to transport over 314 passengers. It will be equipped with Wi-Fi connection, 100% LED lighting, and large glass windows. It will be particularly energy-efficient and will offer a high level of reliability. The Citadis X05 tram, the latest in the Alstom Citadis range, is the lightest tram of its generation, thereby reducing its infrastructural footprint to a minimum.
Particular attention has been paid to the design of this new tram, developed as a partnership between the Design&Styling teams of Alstom and the agency Design Saguez & Partners [1]. Inside the tram, the route maps are dynamic and the information screens are positioned lengthwise. The passenger exchange ratio [2] has been increased by over 20% thanks to the 8 double doors on each side. Interior comfort has also been optimised through bench seating and an improved visualisation of the opening of the doors. 100% eco-designed, the tram is 97% recyclable.
Seven of Alstom's twelve sites in France will be involved in the production of the trams: La Rochelle for the design and assembly, Ornans for the motors, Le Creusot for the bogies, Tarbes for the modules and equipment, Valenciennes for the interior layout, Villeurbanne for the on-board electronics and Saint-Ouen for the design. In total, over 500 jobs will be secured with Alstom and its suppliers.
To date, over 2,300 Citadis trams have been sold to 55 cities worldwide, including 23 in France. Citadis in its X05 version has already been ordered by Nice, Sydney, and Caen. The trams of the Citadis range combine tried-and-tested technology with ease of modularity to offer reliability, comfort and customisation.
[1] http://saguez-and-partners.com/
[2] Exchange ratio: a ratio which measures, for the side of a tram, the total number of passenger door openings and the total length of the passenger zone.
About Alstom
From trains to services and from signalling to infrastructure, Alstom is a leading supplier of integrated mobility solutions. Alstom manages all the stages in setting up an integrated metro system, from its design, to its complete validation and commissioning. With 17 integrated metro projects awarded in cities such as Panama (L. 1 and 2), Guadalajara (Mexico), Los Teques (Venezuela) and Riyadh (Saudi Arabia) - one of the largest turnkey metro projects ever launched, Alstom is a world leader in this area.