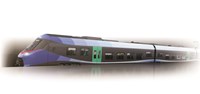 Alstom will provide Trenitalia, the Italian national operator, with 150 new medium-capacity regional trains within a frame contract worth about €900 million. This includes an option for maintenance services. The first order concerns 47 trains totalling €240 million. It is expected that Alstom will begin delivering the first trains in early 2019.
"This award confirms the excellent work done by our company in the field of regional transport over the last 15 years. Alstom has had an excellent return on experience with its Coradia Meridian, a successful train that fully respected delivery times, product quality and reliability. This new order offers us the opportunity to reinforce our customer proximity and continue working with the Italian Regions and Trenitalia to improve local transport in the country", declared Andreas Knitter, Senior Vice-President for Europe at Alstom.
The new medium capacity regional trains for Trenitalia are single-deckers featuring two train lengths and up to 321 seats. This solution is adapted to different configurations and capacity needs for regional and suburban transport. The train offers a wide range of easily combined interiors, liveries and accessories. Every Region can easily personalise its trains using an interactive configurator.
To date, more than 100 Coradia Meridian are already operational in Piedmont, Lombardy, Tuscany, Umbria, Lazio, Marche, Abruzzo, and will soon enter in service in Trentino and Sicily. While preserving the best characteristics of its forerunners, this evolution of Coradia trains for Trenitalia will be even more innovative as a result of the many solutions designed to satisfy the needs of the different Italian Regions. This train is the fruit of Alstom's careful project design and experience in fleet management.
Passengers will appreciate the comfort, space, brightness and exceptional services offered by these trains, all of which create a completely new travelling experience, such as the Wi-Fi network, the audio/video information and entertainment service, and the system of live digital video surveillance cameras for passenger safety.
The train will be even more environmentally friendly than the previous generation of regional trains with a significant decrease in energy consumption per passenger, despite the greater installed power required for the air conditioning system. All of the consumable materials are recyclable up to 95%.
The three Alstom sites in Italy will be involved in the design and manufacturing of the new regional trains for Trenitalia: Savigliano (1,000 employees), Sesto San Giovanni (340 employees), and Bologna (600 employees). The contract will also create help developing Alstom's Italian network of suppliers.
About Alstom
From trains to services and from signalling to infrastructure, Alstom is a leading supplier of integrated mobility solutions. Alstom manages all the stages in setting up an integrated metro system, from its design, to its complete validation and commissioning. With 17 integrated metro projects awarded in cities such as Panama (L. 1 and 2), Guadalajara (Mexico), Los Teques (Venezuela) and Riyadh (Saudi Arabia) - one of the largest turnkey metro projects ever launched, Alstom is a world leader in this area.