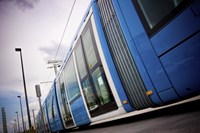 Alstom is to supply SNCF Mobilités with 30 trains from its Coradia platform, for an amount worth approximately €250 million[2]. The order was placed in the context of the renewal of the Corail trains on the Intercity lines. Delivery of the new trains is scheduled from September 2018 onwards.
These 30 new trains will benefit several routes: Paris - Amiens - Boulogne, services to Montluçon from Paris and Bourges, Clermont-Ferrand - Nîmes (Cévenol), Toulouse - Hendaye, as well as lines in the Nouvelle-Aquitaine region (Bordeaux – La Rochelle, Bordeaux - Limoges). They are in addition to the 34 Coradia Liner trains ordered in October 2013 for the Intercity lines, the first of which were delivered to SNCF Mobilités in November 2016.
"The first Coradia Liner Intercity trains, which run at 160 km/h, were approved and delivered at the end of 2016 and placed into commercial service in February 2017. This additional order is excellent news and will ensure the workload of our Reichshoffen site for 2018," says Jean-Baptiste Eyméoud, President of Alstom in France.
The 30 new trains come in three layouts: 19 trains with main line comfort levels, including ten 110-metre dual-mode trains and nine 72-metre electric trains, and eleven 72-metre dual-mode trains with regional comfort levels. The trains will be able to accommodate 165 passengers in their short version or 300 passengers in their long version.
The trains meet the requirements of SNCF Mobilités perfectly in terms of performance, comfort and passenger services. They are accessible to all passengers and come with large bay windows and ambient interior lighting; on-board movement is more fluid and new reclining seats have been fitted with armrests equipped with electric sockets and coat hangers.
The trains also possess large doors and platforms to optimise circulation inside the train and passenger exchange in stations, therefore travel time. Traction is distributed throughout the train and energy consumption is lower compared to previous models. The train architecture has been specially designed for easy maintenance. The trains conform to current European standards and are capable of running on all tracks on the conventional network.
The trains belong to Alstom's Coradia range of modular trains, which benefits from over 30 years of expertise and proven technical solutions. More than 2,400 Coradia trains have been sold to date and 1,900 trains are currently in circulation in Denmark, France, Germany, Italy, Luxembourg, the Netherlands, Portugal, Spain, Sweden and Canada.
Six of the twelve Alstom sites in France are involved in the design and manufacture of the Coradia trains: Reichshoffen for the design and assembly, Ornans for the engines, Le Creusot for the bogies, Tarbes for the traction systems, Villeurbanne for onboard electronics and Saint-Ouen for the design.
[1] TET : Trains d'équilibre du territoire
[2] Booked in Q4 of 2016/17 fiscal year
About Alstom
From trains to services and from signalling to infrastructure, Alstom is a leading supplier of integrated mobility solutions. Alstom manages all the stages in setting up an integrated metro system, from its design, to its complete validation and commissioning. With 17 integrated metro projects awarded in cities such as Panama (L. 1 and 2), Guadalajara (Mexico), Los Teques (Venezuela) and Riyadh (Saudi Arabia) - one of the largest turnkey metro projects ever launched, Alstom is a world leader in this area.