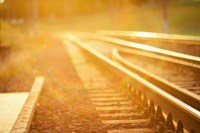 Alstom has delivered the first of the new Citadis trams for Strasbourg, less than two years after signing a framework agreement with the Strasbourg transport company CTS (Compagnie des Transports Strasbourgeois) for the supply of 50 trams. The first part of this agreement concerns an order for 12 trams, worth a total of 41 million euros. The first tram will now begin dynamic on-track testing with the following 11 Citadis due to be delivered by May 2017.
The trams will be added to CTS's existing fleet as part of the extensions to lines A and D. On line D they will run all the way to Kehl in Germany. Entry into commercial service is scheduled for next April. This will be France's first ever tram to cross a border.
"Alstom is proud to help link up Kehl to Strasbourg, creating a unique bond of friendship between the two cities. The trams of the Citadis range, which have been adopted by 54 cities worldwide, combine the use of proven technology and modularity in terms of layout to combine reliability, comfort and customisation," said Jean-Baptiste Eymeoud, President of Alstom in France.
The Citadis trams in Strasbourg will be the first trams approved by German federal BOStrab regulations covering the construction and operation of trams in Germany. The trams are 45 metres long and have the capacity for 288 passengers. They are equipped with LED lighting and full glass doors to enhance passengers' feelings of comfort and safety. In line with PRM (Persons with Reduced Mobility) regulations, the trains are equipped with easily accessible door knobs, wider seating and specially reserved areas for wheelchair users and passengers with strollers.
The trams are largely manufactured in France: La Rochelle (for the design and assembly of the trams), Ornans (for the design and manufacturing of the engines), Le Creusot (bogies for the intermediate modules), Tarbes (traction chains), Villeurbanne (electronic equipment) and St-Ouen (the design). The Salzgitter site in Germany will supply the bogies located underneath the driver cabins.
To date, over 2300 Citadis have been ordered by 54 cities worldwide, the first of which have been in operation since 2000.
About Alstom
From trains to services and from signalling to infrastructure, Alstom is a leading supplier of integrated mobility solutions. Alstom manages all the stages in setting up an integrated metro system, from its design, to its complete validation and commissioning. With 17 integrated metro projects awarded in cities such as Panama (L. 1 and 2), Guadalajara (Mexico), Los Teques (Venezuela) and Riyadh (Saudi Arabia) - one of the largest turnkey metro projects ever launched, Alstom is a world leader in this area.