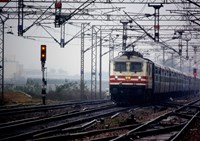 Alstom has successfully supplied, installed and tested Australia's first ETCS[1] Level 2 signalling in New South Wales as a pilot trial as part of the Automatic Train Protection Project for the State's transport authority, Transport for New South Wales (TfNSW). The installation of both the on-board and trackside equipment covers 4 test trains and an area of 11 km between the suburbs of Arncliffe and Oatley, in the South of Sydney.
The pilot project allows TfNSW and the operator, Sydney Trains, to test the functionalities of the ETCS system which will support the further roll-out across critical sections of Sydney network. Deployment of the ETCS technology will enhance the safety and improve the capacity of the rail corridors.
The ETCS Level 2 solution used for the pilot is based on Alstom's Atlas 200 and Smartlock 400 systems. Smartlock 400 is the latest evolution in Alstom's interlocking family and benefits from 30 years of worldwide return on experience. It is suited for all railways topologies with a centralized or distributed architecture and is applicable for both new and existing installations. The technology offers very high operational functionality that maximises safety and punctuality.
Alstom's Atlas 200 ETCS L2 solution has been developed specifically to comply with ERA[2] specifications that benefit from more than 10 years of return of experience following the first installation in Europe. The technology benefits from constant investment in R&D that enables Alstom to continually improve the product and ensuring compliance with the latest ERA and global standards.
A team of more than 50 signalling experts based in Sydney and Melbourne worked closely with the European ETCS Centre of Excellence, based in Charleroi, Belgium to ensure the advanced technology was adapted to the specific needs of the project.
As an additional part of the project, Alstom is also delivering its ETCS Level 1 solution, Atlas 100, to TfNSW for more than 1400 signals and 168 trains to further enhance safety and capacity of the network.
[1] European Train Control System
[2] The European Railway Agency
About Alstom Transport
From trains to services and from signalling to infrastructure, Alstom is a leading supplier of integrated mobility solutions. Alstom manages all the stages in setting up an integrated metro system, from its design, to its complete validation and commissioning. With 17 integrated metro projects awarded in cities such as Panama (L. 1 and 2), Guadalajara (Mexico), Los Teques (Venezuela) and Riyadh (Saudi Arabia) - one of the largest turnkey metro projects ever launched, Alstom is a world leader in this area.