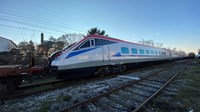 The first ETR470 Pendolino train upgraded by Alstom has arrived in Thessaloniki, marking the arrival of high-speed trains in Greece. This is part of a project implemented by TRAINOSE - the main rail transport provider in Greece - in which Alstom is to provide depot modernisation and corrective maintenance for the five trains that will constitute the country's first fleet of high-speed trains. The two contracts, signed in March 2020 for depot modernisation and in June 2020 for maintenance, are worth a total of approximately €40 million.
The scope of the contracts includes modernisation of a depot in Thessaloniki and corrective maintenance services for five Alstom ETR470 Pendolino high-speed trains. The Thessaloniki depot has undergone significant modernisation works in the past few months. The trains have also been fully refurbished and modernised by Alstom at its Savigliano site in Italy. Following an extensive upgrade process, the trains, now belonging to TRAINOSE as a part of the Ferrovie dello Stato Italiane Group (FSI), will have improved features such as Wi-Fi connection and new passenger information systems. The trains have also been upgraded with ETCS signalling and modified to operate under 25 kV catenary so as to be fully suitable for operation on the Greek network. The first Pendolino train will start circulating between Athens and Thessaloniki from March 2021. The other four trains are expected to be delivered to Thessaloniki by Autumn 2021.
"Introducing high-speed trains to Greece is a major achievement for Alstom and for our client in the country's railway transport modernisation efforts. This project complements Alstom's long-standing presence in Greece," said Stavros Vlachos, Alstom Managing Director for Greece.
The introduction of high-speed trains is a key component of Greek operator TRAINOSE's plan to reduce current journey times on the main Athens-Thessaloniki axis from 4 hours to around 3 hours following the completed infrastructure upgrades.
"Starting high-speed service in Greece with these upgraded Alstom trains is part of our strategy to offer an improved passenger experience, better quality services and reduced travel time on a very popular route. Moreover, the upgrade of our Thessaloniki depot as part of this project will turn our depots into some of the most modern and high-tech depots in South-East Europe," said CEO of TRAINOSE, Professor Filippos Tsalidis.
Alstom's high-speed Avelia range is based on three current flagship products: Avelia Pendolino, Avelia Euroduplex and Avelia AGV, totalling 35 years of experience in commercial service. Avelia Pendolino high-speed train is certified in 14 countries and more than 520 trains have been sold in countries such as Italy, Spain, UK, Poland, Portugal, Russia and China.
The Avelia Pendolino is a flexible and interoperable passenger rail solution for high-speed and conventional lines, running at up to 250 km/h. One of the most proven high-speed trains in the world and truly cross-border, the Avelia Pendolino benefits from Alstom's four decades of high-speed experience. Its success rests primarily on its modularity and flexibility. Avelia Pendolino is mainly produced at Alstom's Savigliano factory in Italy and its first entry into commercial service dates from 1988. The modernization applied to this ETR 470 Pendolino fleet demonstrates Alstom's commitment to supporting customers in the adaptation of their assets during the whole life cycle and leveraging the flexibility of the Avelia Pendolino product.
About Alstom

Alstom's ambition is to accompany all transportation stakeholders in meeting tomorrow's mobility challenges. We strive to provide them with the most efficient and digital mobility systems, while further improving the environmental friendliness of our solutions.