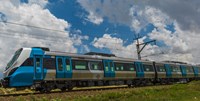 Alstom is pleased to announce that its South African joint venture (JV) partner Gibela has seen its first 13 X'Trapolis Mega trains successfully enter commercial service on South Africa's commuter rail tracks, cementing Alstom's status as South Africa's preferred partner to revitalise its rail industry. The State President of the Republic of South Africa, Mr Jacob Zuma, unveiled the first new trains at Pretoria station in front of more than 2000 guests. The event started with a ribbon-cutting at the Rissik Street station prior to a short train ride to Pretoria station with Mr Zuma on board.
These trains are part of the 600 new, state-of-the-art fleet being built by Gibela for the Passenger Rail Agency of South Africa (PRASA). The first 20 trains have been manufactured at Alstom's Lapa factory in Brazil. They will bring modern, reliable and efficient suburban railway transport to the country's population. The X'Trapolis Mega is a brand new train in Alstom's X'Trapolis suburban range. The trains will initially run in the Koedoespoort – Rissik Corridor in Pretoria during peak and off-peak hours – a total of 146 trips a day.
"This is a historic moment for Gibela, its shareholders and the country at large as South African commuters finally have access to a service that marks entry into a new age of rail" says Gibela CEO, Marc Granger.
"By bringing Alstom's skills and infrastructure to South Africa, we are helping to upgrade the country's railway transport. The success of this project with Gibela positions us as a long-term rail partner in South Africa," commented Yvan Eriau, Managing Director for Alstom Southern Africa and CEO of Alstom Ubunye.
The construction of Gibela's manufacturing facility in Dunnottar is well underway and due to be completed by the end of 2017. The on-site Training Centre has already been completed and admitted its first intake of students in April 2017. At peak production, Gibela will produce 62 trains a year (each trainset comprises six cars). A panel of 200 local suppliers will be manufacturing equipment and components to the 580 locally-produced trains from 2018 onwards. Local suppliers will be able to compete in global markets, opening up real potential for significant exports and foreign exchange earnings for South Africa.
As a whole, the project will boost the country's economy as it creates jobs, develops new skills, prioritises local economic development and local content and promotes black economic empowerment.
About Alstom
From trains to services and from signalling to infrastructure, Alstom is a leading supplier of integrated mobility solutions. Alstom manages all the stages in setting up an integrated metro system, from its design, to its complete validation and commissioning. With 17 integrated metro projects awarded in cities such as Panama (L. 1 and 2), Guadalajara (Mexico), Los Teques (Venezuela) and Riyadh (Saudi Arabia) - one of the largest turnkey metro projects ever launched, Alstom is a world leader in this area.