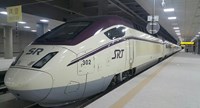 The South Korea Sudokwon high-speed line - for which Alstom supplied the interlocking system as well as the associated engineering services - started revenue service today. Sudokwon high-speed line includes three stations, is 61.1km long, 52.3km of which are in tunnels, and directly links to the existing Seoul-Busan high-speed line.
After Seoul-Busan line, this is the second high-speed project in the country for which Alstom is involved. It is South Korea's third high-speed line. The entire journey will take around 20 minutes, rapidly linking southern Seoul to the south-east of the Gyeonggi Province.
Alstom, as part of a consortium led by LSIS[1], was awarded the contract by KRNA (Korea Rail Network Authority) in December 2014. The interlocking technology deployed on Sudokwon is the same as on the Seoul-Busan line, highlihasghting once again the confidence of the customer in Alstom's technology that has allowed for safe and reliable routing of trains since 2004.
"Alstom is proud to have participated in Sudokwon high speed line, which will provide seamless transport solution to commuters in Seoul and Gyeonggi Province. With its excellent execution of KTX Seoul-Busan high speed line and Incheon Airport Link from 1994 to 2010 and their efficient, reliable and sustainable performance until today, Alstom will continue supporting its customers and partners in South Korea to further develop its rail transport network" said Ling Fang, Managing Director of China & East Asia, Alstom.
This project is executed by Alstom Transport S.A. (France) with support from Alstom UK, Alstom Belgium and Alstom Korea.
Alstom has been in Korea for transport activities for more than 40 years. The group has supplied locomotives, high-speed integrated system to equip KTX Seoul-Busan line[2] with 46 high speed trains[3], core-system engineering, catenary and traffic control system manufacturing. This was the first high speed train project for Alstom in Asia. Alstom has also supplied rail solutions for metro and suburban lines.
[1] electrical equipment maker
[2] KTX Seoul-Busan line has 10 stations in total being opened in two phases. Seoul-Daegu line started revenue service in 2004 and Daegu-Busan in operation since 2010.
[3] 34 of which were manufactured locally with technical assistance and training from France.
About Alstom
From trains to services and from signalling to infrastructure, Alstom is a leading supplier of integrated mobility solutions. Alstom manages all the stages in setting up an integrated metro system, from its design, to its complete validation and commissioning. With 17 integrated metro projects awarded in cities such as Panama (L. 1 and 2), Guadalajara (Mexico), Los Teques (Venezuela) and Riyadh (Saudi Arabia) - one of the largest turnkey metro projects ever launched, Alstom is a world leader in this area.