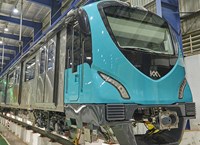 Alstom today inaugurated the metro of Kochi (India), in presence of the Hon'ble Prime Minister of India, Shri Narendra Modi. As part of the €150 million project, the Alstom-built metros are the first to have been entirely designed in Bangalore and manufactured at Sri City in India supporting the Government's 'Make in India' campaign.
Each Metropolis train delivered to Kochi Metro Rail Limited (KMRL) will be able to carry up to 975 passengers and provide 136 seats, with wide gangways and longitudinal seating arrangements allowing passengers to walk from one end of the train to the other, optimizing transport capacity and facilitating easy boarding. As the first Communication-Based Train Control (CBTC)-based metro in India, Alstom's Urbalis 400 will control the movement of trains precisely, allowing more trains to run on the line at higher speeds in total safety. Alstom has also provided the telecom solution, with a third rail-based 750VDC power supply solution along with the associated SCADA system.
"Our goal was to deliver an innovative and effective mobility solution for the people of Kochi. Alstom's smart solutions have helped us meet that aim. Their end-to-end services and close attention to our needs ensured there the lead time was extremely competent and no gaps were caused by multiple-party involvement," said Mr Elias George, Managing Director and Additional Chief Secretary of Transport of Kochi Metro Rail Limited.
Alstom focused on enhancing the customer experience to all possible aspects of the train. In an interesting design feature, the train conjures up an image of a 'nettipattam' on an elephant tusk with eyes that light up when in drives through dark tunnels. The trains are fitted with air conditioning and real time passenger information systems for a high level of passenger comfort. They are also equipped with CCTV, fire & smoke detection system for passenger safety and multiple USB charging points for mobiles – the latter is another first for metros in India.
Alstom's strategy is supported by investments in India and continuous innovation that will bring significant value to the passengers and operators with an aim to be the benchmark of mobility of the future. Mr. Bharat Salhotra, Managing Director, Alstom in India and South Asia, added, "The Kochi Metro re-affirms our strong commitment and endorsement of the Government's 'Make in India' vision. It reinforces our goal to being the preferred partner of cities, countries and operators to answer their mobility needs as a turnkey solution provider. This is an exciting day for us and we are proud to be associated with this project."
About Alstom
From trains to services and from signalling to infrastructure, Alstom is a leading supplier of integrated mobility solutions. Alstom manages all the stages in setting up an integrated metro system, from its design, to its complete validation and commissioning. With 17 integrated metro projects awarded in cities such as Panama (L. 1 and 2), Guadalajara (Mexico), Los Teques (Venezuela) and Riyadh (Saudi Arabia) - one of the largest turnkey metro projects ever launched, Alstom is a world leader in this area.