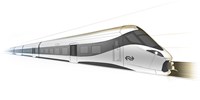 Alstom has been awarded a contract worth over €800 million to supply 79 [1] Intercity New Generation trains to NS [2]. The trains which can reach a maximum speed of 200 km/h will be delivered from January 2020 on. They will run on the national network on the Amsterdam-Rotterdam-Breda line and on the Den Haag-Eindhoven corridor.
"We are pleased to be entrusted by NS the supply of a highly reliable, energy efficient, safe and comfortable transport system for their passengers. With a total capacity of 25,000 seats the new Intercity trains we offer to NS are a concentration of the best proven technology from our Coradia platform", said Andreas Knitter, Senior Vice-President for Europe at Alstom. "Alstom has been committed to the Dutch market for many years with the delivery of trams and metros to The Hague, Amsterdam and Rotterdam. Alstom is also responsible for the placement and maintenance of the European signalling system ERTMS on of the Betuwe Route and the Hanze Line"
"Proven technology and at the same time a train that is ready for the future. That is in short what Alstom is offering us and our travelers. We very much look forward to the cooperation in the coming years. From now on we need to push this project forward together with Alstom because we have an ambitious planning and a lot has to be done", said Roel Okhuijsen, Programme Director at NS for new rolling stock. "The new Intercity trains are necessary for the replacement of existing materiel and for expanding the services."
The new Intercity trains integrate the latest technologies offering a very good riding quality to passengers and to NS staff. They feature spacious and well-lit multi-purpose areas for reading, resting, wheelchairs and bicycles, as well as dedicated restrooms for people with reduced mobility. The trains are equipped with WIFI and LED lighting. They present access for a quick passenger flow and are equipped with a dynamic real time passenger information system. All coaches are fitted with security cameras to increase passenger and crew safety. The trains meet the highest standards for interoperability and will be equipped with ATB and ERTMS systems. The trains are able to operate on 25KV AC (High Speed Line) and 1,5 KV DC (main railway network).
The new Intercity trains for NS belong to Alstom's Coradia range of modular trains with a proven service track record of more than 16 years. Over 2,400 trains have been sold around the world and feature a high availability rate.
The trains are designed and developed in Saint-Ouen (France) and Salzgitter (Germany) by an international team of experts of six different nationalities and will be manufactured in Alstom's site in Katowice (Poland). Other European sites will be involved in the project: Charleroi (Belgium) for on-board signalling, Ridderkerk (The Netherlands) for the commissioning, warranty, support, training and services, and in France, Valenciennes for the interiors fitting, Reichshoffen for the design of the driver's cabin, Ornans for the motors, Tarbes for the design of the traction inverters and the manufacturing of power modules, Villeurbanne for embarked electronics and internet, and passenger information.
[1] First batch which can be followed by additional orders up to 80,000 seats (around 150 trains)
[2] Netherlands national railway operator
About Alstom
From trains to services and from signalling to infrastructure, Alstom is a leading supplier of integrated mobility solutions. Alstom manages all the stages in setting up an integrated metro system, from its design, to its complete validation and commissioning. With 17 integrated metro projects awarded in cities such as Panama (L. 1 and 2), Guadalajara (Mexico), Los Teques (Venezuela) and Riyadh (Saudi Arabia) - one of the largest turnkey metro projects ever launched, Alstom is a world leader in this area.