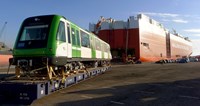 Alstom is shipping the first metro for the additional order for Line 1 of Lima metro.
In 2016, Alstom has signed a contract with Graña y Montero Ferrovías for the supply of 20 additional trains and 39 cars in order to increase Line 1's fleet. The train left the factory of Santa Perpetua, Barcelona to go to the port of Santander where it will set sail to Peru.
The Lima metro line 1 is 34 km-long and includes 26 stations. It crosses the city from South 'Villa El Salvador' to North 'San Juan de Lurigango'. The ridership, which has been growing ever since the line opened in 2011, is of about 320,000 per day. Thanks to the new metro cars, the headway will be reduced to 3 minutes thus increasing the capacity to 48 000 passengers per hour.
The Metropolis for Lima features large doors, low floor, extra wide seats and gangways between the coaches. Additionally, dynamic information displays and an interior design favoring natural light will improve passengers' safety and comfort.
About Alstom
From trains to services and from signalling to infrastructure, Alstom is a leading supplier of integrated mobility solutions. Alstom manages all the stages in setting up an integrated metro system, from its design, to its complete validation and commissioning. With 17 integrated metro projects awarded in cities such as Panama (L. 1 and 2), Guadalajara (Mexico), Los Teques (Venezuela) and Riyadh (Saudi Arabia) - one of the largest turnkey metro projects ever launched, Alstom is a world leader in this area.