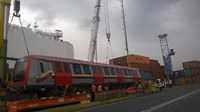 Alstom delivered today the last of 22 metropolis trainsets to join Los Teques´metro system. The trains began circulating on Line 2 of Los Teques, in operation since 2015, benefiting around 42,000 passengers per day.
Alstom supplied 22 metro trains of 6 cars each, medium voltage electrification, traction substations and part of the signalling equipment. The Alstom-led consortium "Grupo de Empresas"; together with Colas Rail and Thales, subcontracted by Consorcio Linea 2[1], is responsible for the project, including engineering, integration and commissioning of the electromechanical works on a turnkey basis.
The Metropolis trains for the city of Los Teques, located 30 km Southwest of the capital of Caracas, offers wide access doors, increased passenger capacity with corridors for circulating between the cars, internal LED lighting and a CCTV surveillance system. They were manufactured at the Alstom site of Valenciennes, which is specialized in the design, development, manufacturing and testing of rail equipment for metros, tramways and double-deck trains.
"We are pleased to hand over and as per schedule the last Metropolis trainset to the city of Los Teques. This project undoubtedly already benefits the city and its residents, who commute aboard a reliable, comfortable and environmentally-friendly means of transportation", declared Xavier Boisgontier, Alstom Managing Director North LAM.
Alstom's Metropolis is a world leading, proven, safe and reliable train that serves many cities including Panama, Singapore, Sao Paulo, Shanghai and Amsterdam. More than 5,000 Metropolis cars have been sold worldwide.
With over 35 years contributing to Venezuela's railway infrastructure, Alstom continues to seek ways in which to improve the quality and efficiency of the country's transport solutions, providing suitable solutions, in order to benefit the population.
[1] Consorcio Linea 2 is made up of Odebrecht and Vinccler companies.
About Alstom
As a promoter of sustainable mobility, Alstom develops and markets systems, equipment and services for the railway sector. Alstom manages the widest range of solutions in the market – from high-speed trains to metros and tramways – customised services (maintenance, modernisation,…) and infrastructure and signalling solutions. Alstom is a world leader in integrated railway systems. It recorded sales of €6.9 billion and booked €10.6 billion of orders in the 2015/16 fiscal year. Headquartered in France, Alstom is present in over 60 countries and employs 31,000 people today.