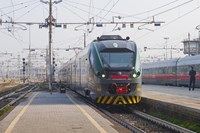 Milan metro line 5, equipped with Alstom infrastructure, received the PFI Award as "Transport Deal of the Year 2015". Project Finance International Magazine rewards excellence in the financial world. The ceremony was held in London on 3 February.
This award highlights the great work performed by the City of Milan and the M5 Consortium composed of Alstom, Astaldi, Ansaldo STS, Hitachi Rail Italy – ex Ansaldo Breda – and ATM to complete this strategic project for sustainable mobility in Milan. Alstom has designed, produced and installed the tracks and associated third rail, the auxiliary and 750VDC traction substations, the medium and low voltage electricity distribution network and the security and fire detection systems. Alstom was also responsible for the system of automatic platform screen doors that controls safe access to the trains.
"We are very honoured about this international recognition, which rewards the hard collective work between public and private actors that led to delivering on schedule Milan metro line 5. Achieving this important goal was made possible thanks to the great cooperation between the different members of the Consortium Alstom was proud to be part of", said Pierre-Louis Bertina, Managing Director of Alstom Italy.
Line 5 is the first automatic metro line in Milan. About 13 km long, it runs completely underground and crosses the city with 19 stations between Bignami and San Siro. It carries 130,000 passengers per day and avoids 15 million private car trips per year.
The project was managed by Alstom's site in Guidonia, Rome, specialised in railway infrastructure, while Alstom's site in Milan contributed to its commissioning.
The complete list of winners of the different categories is available on the website http://www.pfiawards.com/.
About Alstom
As a promoter of sustainable mobility, Alstom develops and markets systems,equipment and services for the railway sector.
Alstom manages the widest range of solutions in the market – from high-speed trains to metros and tramways – and associated maintenance, modernisation, infrastructure and signalling solutions.
Alstom is a world leader in integrated railway systems.
It recorded sales of €6.2 billion and booked €10 billion of orders in the 2014/15 fiscal year. Headquartered in France, Alstom is present in over 60 countries and employs 32,000 people today.