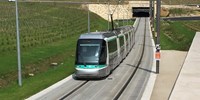 Valérie Pécresse, President of the STIF and of the Region of Ile-de-France, Elisabeth Borne, Chief Executive Officer of the RATP, Benoît Stéphan, Director of Sales and Marketing for Alstom France and David Journet, Managing Director of NTL inaugurated on Saturday 11 June the underground section of line T6 of the Ile-de-France tramway.
28 Translohr STE6 trams on tyres (46m long) have been in circulation on line T6 since December 2014, as far as the stop Robert Wagner. The commercial entry into service of the underground section, representing the final portion of the line, is a big technical challenge for NTL with the 1.6 km tunnel section at Viroflay which includes a 10% slope. This performance has been made possible via the gradeability [1] of Translohr's trams on tyres, which combine tyre grip with additional motorisation [2] on two axles.
Ordered in December 2007 [3] by the RATP, the trams of line T6 can accommodate up to 255 passengers [4]. They offer unique ease of insertion, with reduced gauge [5] and a short turning radius [6]. Their structure on tyres and guidance system, installed on a central rail, make for silent, [7] comfortable trams.
On 1 June, the STIF and the RATP also confirmed their decision to order 4 new STE3 tramsets (25m long) for line T5 between Saint-Denis and Garges-Sarcelles, thereby renewing their trust in the Translohr trams supplied by Alstom and NTL. The reinforcement of the fleet will increase the capacity of the line by 25%. The delivery of the four tramsets is scheduled to take place by the end of 2017.
Operated all over the world (Shanghai, Tianjin, Padoue, Venise-Mestre, Medellín) as well as in France (Clermont-Ferrand and Ile-de-France), 136 tramsets are currently in circulation and 140 have been ordered worldwide.
[1] Ability to climb slopes with gradients of up to 13%.
[2] Motorised wheels.
[3] Order value: 97 million euros.
[4] Capacity: 255 passengers (4 passengers/m²).
[5] 5.18m when directly lined up on double tracks
[6] 10.5m.
[7] No vibrating or squeaking in curves.
About Alstom
From trains to services and from signalling to infrastructure, Alstom is a leading supplier of integrated mobility solutions. Alstom manages all the stages in setting up an integrated metro system, from its design, to its complete validation and commissioning. With 17 integrated metro projects awarded in cities such as Panama (L. 1 and 2), Guadalajara (Mexico), Los Teques (Venezuela) and Riyadh (Saudi Arabia) - one of the largest turnkey metro projects ever launched, Alstom is a world leader in this area.