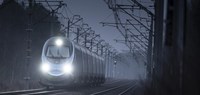 Alstom's Pendolino high speed trains owned and operated by PKP Intercity[1] have covered 10 million kilometres in revenue service since the service started in December 2014. The trains have made over 21,000 journeys and carried 5.7 million passengers. Pendolino for PKP is the first high speed train in Poland, linking the country's key metropolitan areas. It has set a new standard for railway travel, offering passengers enhanced comfort, safety and shorter travel times between cities. In December 2015, PKP Intercity extended the routes of the trains to Rzeszów, Bielsko Biała and Gliwice.
Regular maintenance is conducted at Alstom's Train Technical Service Centre in Olszynka Grochowska (Warsaw). Over the last 18 months, Alstom's professional team have conducted over 1,300 regular check-ups, working 50,000 hours, to ensure 100% availability in line with the PKP IC commercial programme. Alstom focuses on the highest EHS standards. There have been no accidents at the Pendolino Service Centre for over 1,000 days, i.e. since the start of operations.
"Alstom is proud of the success of this project in Poland. Pendolino trains have proven their reliability over the last 18 months, operating in all kind of weather conditions regardless of heat, snow or sub-zero temperatures, and always providing comfort and safety to passengers," said Artur Fryczkowski, Services Director for Alstom in Poland.
Pendolino is one of the most proven high-speed trains in the world, crossing today seven European borders and operating in 14 countries worldwide: Italy, Austria, Germany, China, Czech Republic, Finland, Portugal, Russia, Spain, Slovakia, Slovenia, Switzerland, United Kingdom and Poland. As part of Alstom Avelia range, Pendolino benefits from four decades of experience in high speed with more than 1,400 trains sold. Today, more than 1,200 of these trains are in commercial service which represents around one third of the world's high speed fleet.
[1] In 2011, PKP Intercity awarded Alstom a contract worth €665 million to supply 20 high speed trains, their full maintenance for 17 years and the construction of a maintenance depot, Alstom's Train Technical Service Centre in Warsaw.
About Alstom Transportation
From trains to services and from signalling to infrastructure, Alstom is a leading supplier of integrated mobility solutions. Alstom manages all the stages in setting up an integrated metro system, from its design, to its complete validation and commissioning. With 17 integrated metro projects awarded in cities such as Panama (L. 1 and 2), Guadalajara (Mexico), Los Teques (Venezuela) and Riyadh (Saudi Arabia) - one of the largest turnkey metro projects ever launched, Alstom is a world leader in this area.