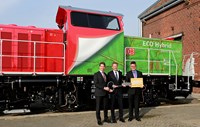 Alstom handed over five Prima H3 hybrid shunting locomotives to Deutsche Bahn during a ceremony at Alstom's Stendal site in Saxony-Anhalt, Germany, where the locomotives were built. In total, 23 of the environmental-friendly vehicles have been ordered from different customers until today.
This new generation of hybrid shunting locomotive will be used at Deutsche Bahn, making a sustainable contribution towards reducing CO2 emissions on rail tracks in Germany.
"Alstom has been consistently developing its environmentally friendly hybrid technology under European conditions for many years, and it is the first manufacturer to have put this technology on rail. Our Prima H3 locomotive is paving the way to the new reality of zero-emission freight transport in Europe" said Daniel Croonen, Director Service for Alstom Germany and Austria.
"We are already thinking of the future. For this reason, we strive for better climate protection and less noise impact. The new Prima H3 hybrid locomotive will help us to achieve both. Hand-in-hand with the industry, DB has brought the environmentally friendly technology to be used in full rail operation. I'm proud that the five vehicles are due to take up service in Franconia from November," Andreas Gehlhaar, Head of Environmental Affairs at Deutsche Bahn AG.
Alstom innovates with its Prima H3 locomotive in a market segment that has long been left apart: in comparison to conventional shunting locomotives, the Prima H3 with its hybrid drive produces up to 50% less CO2, while other pollutant emissions (Nitrogen dioxide) are cut by up to 70%. Noise emissions have also been significantly reduced. The 350 kW diesel generator meets the requirements of exhaust gas standard stage IIIB[1] and has been designed with future exhaust gas standards in mind. Depending on its use, the shunting locomotive will spend between 50% and 75% of its service time in battery mode. This makes it possible to achieve zero-emission rail transport in urban areas or production plants. The locomotive reaches speeds of 100 km/h and can therefore easily be integrated in main line traffic.
More than 200 employees are working at the Alstom site in Stendal, thus making it one of the most important employers in the region. The facility exists since 1873 and meanwhile is specialised in servicing as well as repair and modernisation of rail vehicles and their components.
[1] Most recent European standard on the regulation of emissions
About Alstom
From trains to services and from signalling to infrastructure, Alstom is a leading supplier of integrated mobility solutions. Alstom manages all the stages in setting up an integrated metro system, from its design, to its complete validation and commissioning. With 17 integrated metro projects awarded in cities such as Panama (L. 1 and 2), Guadalajara (Mexico), Los Teques (Venezuela) and Riyadh (Saudi Arabia) - one of the largest turnkey metro projects ever launched, Alstom is a world leader in this area.