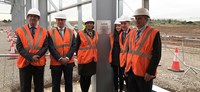 Alstom today celebrates the start of construction work on its new technology centre and training academy in Widnes at a ground-breaking ceremony attended by UK Rail Minister Paul Maynard.
The technology centre and training academy, for which Alstom invested €25 million, will open in May 2017. It could create up to 600 jobs for local people in the long term and, once open, offer 15,000 hours of training each year.
Rail Minister Paul Maynard said: "We believe Britain can lead the world in the booming global rail industry but we need a modern, highly skilled workforce to achieve this. That is why this new academy is an exciting and very welcome development for the North West. We aim to create 30,000 apprenticeships across the country in road and rail by 2020. We want to attract the brightest young minds into the business and promote the cutting edge and high-technical careers on offer in today's rail industry."
Cllr Rob Polhill, leader of Halton Borough Council, said: "We are delighted Alstom are on site in Widnes. This is fantastic news for Halton and the Liverpool City Region. Alstom plans to create hundreds of high quality jobs and training opportunities, and the new training academy is a fantastic opportunity for local people. The Council has been striving for many years to get the site connected to nearby rail infrastructure. Not only will Alstom use that rail connection but they are investing in their own on-site rail infrastructure too."
Welcoming the investment from Alstom, Liverpool City Region Local Enterprise Partnership (LEP) Interim Chair Asif Hamid said: "This is fantastic news for the City Region. Alstom's €25m technology centre and training academy development will bring a state-of-the-art facility to Halton and create jobs and growth for generations to come. Their investment will contribute significantly to the City Region's advanced manufacturing sector and the regional economy as a whole. Going forward, we will continue to work closely with Alstom to support their future plans."
"The UK remains one of the most exciting places in the world for rail companies like Alstom. Our new centre in Widnes will create hundreds of good quality jobs and apprenticeships, and boost the UK supply chain. Here in Widnes, we will create Alstom's very own rail campus, bringing together our experienced team with the next generation of engineers and apprentices. Longer-term, we would also be able to build trains here, for example for New Tube for London. The Government's investment in the railways offers the UK a once-in-a-generation opportunity to completely transform the passenger experience, and at Alstom we want to build the trains that will deliver that," said Nick Crossfield, Managing Director for Alstom in the UK and Ireland, at the event.
The first project that Alstom will deliver at the rail technology centre is re-painting the Pendolino fleet of 56 Class 390 'tilting' trains used by Virgin on the West Coast Main Line. The project is worth €28 million and will create 80 jobs by the time the technology centre is open in May 2017.
Alstom has broader ambitions for the UK and can offer the widest range of solutions from metros to high speed trains (tilting and non-tilting, double deck and single deck).
About Alstom
From trains to services and from signalling to infrastructure, Alstom is a leading supplier of integrated mobility solutions. Alstom manages all the stages in setting up an integrated metro system, from its design, to its complete validation and commissioning. With 17 integrated metro projects awarded in cities such as Panama (L. 1 and 2), Guadalajara (Mexico), Los Teques (Venezuela) and Riyadh (Saudi Arabia) - one of the largest turnkey metro projects ever launched, Alstom is a world leader in this area.