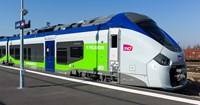 Alstom has just reached a new milestone with the signature of the first end of general warranty of a Regiolis (Coradia Polyvalent) trainset, two years after the first deliveries. In addition to this important step in the project, which confirms the reliability and the availability of the trains, Regiolis is celebrating over 10 million kilometres covered in commercial service.
This first end of warranty concerns a Regiolis Picardy dual-mode trainset consisting of 6 cars. To date, 137 Regiolis have been delivered to eight French regions . Alstom's after-sales teams have been assigned to the customers' sites to ensure corrective maintenance, as well as the availability and reliability of the trains.
"This first end of warranty two years after the delivery of the first trains is a great success which attests to the reliability of our train and the excellent cooperation between the teams of SNCF and Alstom. Train availability for the operator and passenger comfort are our priority. Regiolis has demonstrated that it is perfectly adapted both to daily journeys and long trips" says Jean-Baptiste Eyméoud, Senior Vice-President of Alstom France.
Coradia Polyvalent belongs to Alstom's Coradia range of trains. Thanks to its modular design, it can be adapted to the needs of every organising authority as well as different types of use: suburban, regional and intercity. It offers optimal comfort for passengers, whatever the length of the journey.
The production of Coradia Polyvalent creates over 4000 jobs in France with Alstom and its suppliers. Six of Alstom's twelve sites in France are involved in the project: Reichshoffen for the design and assembly, Ornans for the motors, Le Creusot for the bogies, Tarbes for the traction, Villeurbanne for the onboard electronics and Saint-Ouen for the design.
About Alstom
From trains to services and from signalling to infrastructure, Alstom is a leading supplier of integrated mobility solutions. Alstom manages all the stages in setting up an integrated metro system, from its design, to its complete validation and commissioning. With 17 integrated metro projects awarded in cities such as Panama (L. 1 and 2), Guadalajara (Mexico), Los Teques (Venezuela) and Riyadh (Saudi Arabia) - one of the largest turnkey metro projects ever launched, Alstom is a world leader in this area.