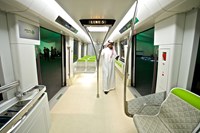 ArRiyadh Development Authority (ADA) has today completed the end of Tunnel Excavation works for Line 5 (Green Line), one of the three lines being constructed by FAST [1] Consortium - one of the three international Consortia commissioned to build the six-line Riyadh metro project. The announcement took place on June 8th, 2016 during a ceremony in the presence of the Governor of Riyadh, His Royal Highness Prince Faisal bin Bandar bin Abdulaziz Al Saud, Transport Minister His Excellency Suleiman Al Hamdan, in addition to other dignitaries from different Government Ministries and VIP Guests.
FAST Consortium is commissioned to build the Yellow, Green, and Purple lines - 33km of viaducts, 22km of underground and 9km of at-grade. The Green Line runs underground within a bored tunnel along King Abdulaziz Road, one of the main arteries running through the city of Riyadh. The length of the line is 13km and it features 11 deep underground stations, in addition to 2 transfer stations with the Red and Blue lines.
The Riyadh Metro project has seven Tunnel Boring Machines (TBM) working on the tunnelling under the city. Today was the second TBM to complete excavation works in the city.
In addition to announcing the end of tunnel excavation work, a full-size mock-up of the Riyadh Metropolis train manufactured by Alstom was unveiled. The event also marks the kick-off of the construction by Alstom of the track works, an important milestone for the project. The works will commence within an at-grade section of the Yellow Line, and will be the first tracks to be installed throughout the Riyadh Metro project.
In 2013, Alstom and its consortium FAST were awarded a contract to supply three metro lines totalling a length of approximately 64 km. Alstom is supplying a fully integrated metro system which includes: 69 Metropolis Trains, Urbalis signalling, the energy recovery system Hesop as well as tracks.
The Metropolis trains for the Riyadh Metro Project are composed of two cars per set and are each 36 metres long. Each train features three classes: first, family and single class. The trains are driverless and 100% motorized, allowing them to run on gradients of up to a 6% slope.
The trains will offer passengers a high level of comfort, ergonomic seating, LED lightning, air conditioning and advanced passenger information systems.
In addition to the Metropolis trains, Alstom will provide Urbalis, its CBTC [2] signalling solution, as well as the power supply and Alstom's energy recovery system Hesop. All sub systems have been optimised together to reduce energy consumption.
[1] FAST includes : FCC (leader), Freyssinet Saudi Arabia, Alstom, Samsung, Strukton, Setec and Typsa.
[2] Communication Based Train Control
About FAST Consortium
FAST Consortium is one of three consortia contracted by ArRiyadh Development Authority (ADA) to design and build the Riyadh Metro Project. The consortium involves eight international partners; in addition to Spain's FCC this includes Samsung C&T (Korea), Alstom (France), Strukton (The Netherlands), Freyssinet (Saudi Arabia), Atkins (UK), Typsa (Spain) and Setec (France). The consortium team includes 38 nationalities and 22 different languages and is responsible for delivering 64km of track and 69 driverless trains.
About Alstom
From trains to services and from signalling to infrastructure, Alstom is a leading supplier of integrated mobility solutions. Alstom manages all the stages in setting up an integrated metro system, from its design, to its complete validation and commissioning. With 17 integrated metro projects awarded in cities such as Panama (L. 1 and 2), Guadalajara (Mexico), Los Teques (Venezuela) and Riyadh (Saudi Arabia) - one of the largest turnkey metro projects ever launched, Alstom is a world leader in this area.