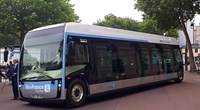 Alstom and NTL presented the second Aptis prototype, a 100% electric solution for mobility, at Versailles in the presence of Valérie Pécresse, President of the Ile-de-France region and Jean-Baptiste Eyméoud, President of Alstom in France.
Aptis will be tested by the STIF and Keolis on the bus route between Versailles and Vélizy from September 2017 onwards. This tramway-like bus offers a unique comfort experience for passengers. Aptis' full low-floor and three double-doors, allow smooth on-board passenger circulation and easy access for pushchairs and wheelchairs. Its panoramic windows at the front and the rear of the bus provide 20% extra window surface compared to a conventional bus, as well as a lounge area at the rear. Aptis also benefits from a low level of sound.
The vehicle integrates itself perfectly into the urban environment, thanks to its four steerable wheels that minimize the space needed in curbs (-25% compared to a conventional bus). This insertion performance is also an advantage at bus stops, as it reduces the space needed for parking and helps to gain extra space for other types of vehicles.
The Aptis prototypes are manufactured at the NTL plant in Duppigheim in the Grand Est region and the main components are manufactured at five Alstom sites in France: Saint-Ouen for the project management and system integration, Tarbes for the traction, Ornans for the motors, Vitrolles for the SRS system and Villeurbanne for the electronic components of the traction chain.
About Alstom
From trains to services and from signalling to infrastructure, Alstom is a leading supplier of integrated mobility solutions. Alstom manages all the stages in setting up an integrated metro system, from its design, to its complete validation and commissioning. With 17 integrated metro projects awarded in cities such as Panama (L. 1 and 2), Guadalajara (Mexico), Los Teques (Venezuela) and Riyadh (Saudi Arabia) - one of the largest turnkey metro projects ever launched, Alstom is a world leader in this area.