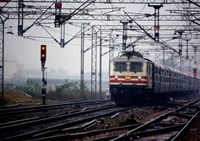 Alstom has signed a contract worth over 10 million euros for the renewal of the signalling system of four stations on Sarmiento line (Marcos Paz, General Las Heras, Empalme Lobos and Lobos) of the Merlo-Lobos interurban branch.
Following an international public tender, Alstom, as a subcontractor of Constructora POSE, provider of Trenes Argentinos Infraestructura, will be responsible for supplying the necessary technological solutions to install signalling rooms with electromechanical interlocking. This includes system design, equipment provision, supervision and system commissioning. The project is expected to be delivered in 30 months.
The Sarmiento line is one of the 7 suburban train lines of the Metropolitan Railways of Buenos Aires. Alstom will manufacture the safety equipments (vital relays, track circuits, point machines and level crossing). Alstom offers a unique package of 100% interoperable equipment, with more than 10 years of commercial operation. Its track/train and train/track interoperability is present in projects in more than 29 countries around the world.
"We celebrate this new Alstom contract in the country, since it is the first contract signed by Alstom in Argentina to provide the signalling system of a surface railway line. We look forward to more opportunities to offer our experience and technology to the Argentina transport system", said Michel Boccaccio, Senior Vice-President of Alstom in Latin America.
The tender awarded by Trenes Argentinos Infraestructura is part of the plan developed by the Ministry of Transport of the Nation to adapt signalling and install the ATS (Automatic Train Stop) automatic braking system, with an investment of 237 million euros until 2019.
Alstom has been present in Argentina since 1993 providing signalling systems for Buenos Aires metro, as well as the maintenance and modernization of existing metro and suburban trains. Alstom has also been involved in the maintenance and modernization of locomotives and cars for freight and passenger services.
About Alstom
From trains to services and from signalling to infrastructure, Alstom is a leading supplier of integrated mobility solutions. Alstom manages all the stages in setting up an integrated metro system, from its design, to its complete validation and commissioning. With 17 integrated metro projects awarded in cities such as Panama (L. 1 and 2), Guadalajara (Mexico), Los Teques (Venezuela) and Riyadh (Saudi Arabia) - one of the largest turnkey metro projects ever launched, Alstom is a world leader in this area.