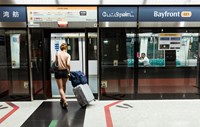 Alstom has signed a contract with Singapore Land Transport Authority (LTA) to supply the signalling system for Singapore Circle Line (CCL) final phase, stage 6. This includes the supply of its Urbalis [1] driverless signalling system, the equipment of news trains and locomotives of the existing line and upgrade of the Automatic Train Supervision system (ATS). Besides, Alstom will almost double the capacity of the existing Kim Chuan Depot with new stablings.
Singapore CCL Stage 6 will be 4km long and will add 3 stations, Keppel, Cantonment and Prince Edward, to the existing line of 30 stations across 35.5km. Once completed around 2025, it will close the loop of CCL by connecting HarbourFront Station to Marina Bay Station. By then, commuters will enjoy overall connectivity between areas in the West and key employment areas in the CBD (business district), as well as upcoming developments in the Marina Bay area.
So far, Alstom has been supplying signalling systems for three metro lines in Singapore, in total representing over 100km. They are North East Line (20km), the first full underground driverless metro line in Singapore, the entire Circle Line (39.5km) and Thomson East Coast Line (43km), which will start revenue service in five stages from 2019 until 2024.
"Alstom is pleased to win this contract to continue supporting our customer, LTA, to develop the Circle Line. By closing the loop of the line with a service-proven signalling system, commuters will have an easier and faster travel experience from the western to the eastern part of Singapore. Alstom will work closely with LTA to execute this project in order to deliver the highest level of excellence", said Ling Fang, Managing Director of China & East Asia, Alstom.
[1] Urbalis is Alstom's Communications Based Train Control (CBTC) signaling solution, which is the latest generation of technology for metro and suburban rail networks. It gives operators precise control of train movements, allowing more trains to run on the line at higher frequencies and speeds in total safety — with or without drivers.
About Alstom
From trains to services and from signalling to infrastructure, Alstom is a leading supplier of integrated mobility solutions. Alstom manages all the stages in setting up an integrated metro system, from its design, to its complete validation and commissioning. With 17 integrated metro projects awarded in cities such as Panama (L. 1 and 2), Guadalajara (Mexico), Los Teques (Venezuela) and Riyadh (Saudi Arabia) - one of the largest turnkey metro projects ever launched, Alstom is a world leader in this area.