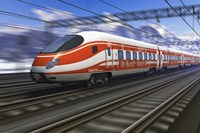 SNCF and Alstom are combining their expertise with the launch of the first innovation partnership to create the next generation of the TGV, which will offer a unique, high-quality travelling experience while meeting the new economic and environmental challenges of high-speed travel.
Today, Wednesday 7 September 2016 in Paris, Rachel Picard, CEO of Voyages SNCF, and Jean-Baptiste Eymeoud, President of Alstom France, inaugurated the shared workspace of this ambitious, innovative cooperation, embodied by a team of multidisciplinary experts from the two companies.
The SNCF-Alstom innovation partnership will design and produce the new TGV with planned entry into commercial service in 2022. The partnership will lead to the definition of a new technological, commercial and industrial strategy for high speed. It will offer a real breakthrough in terms of competitiveness, with a major objective of reducing investment and operating costs and enhancing the train's appeal on the mobility market, providing a new experience for passengers in terms of comfort and onboard services.
A challenge for technological, industrial and commercial innovation
The ambitions for the new-generation TGV are high:
Reduce acquisition and operating costs by at least 20%,
Optimise the environmental footprint, with a material recyclability rate of over 90% and a reduction in energy consumption of at least 25%,
Develop the commercial offer to improve passenger experience: a 20% increase in capacity enabling more onboard services and/or more passengers. The trains will also offer greater modularity in terms of interior layout and carriage composition, offering enhanced quality in terms of customer service, comfort and connectivity.
The results of this collaboration will complement the high-speed trains of Alstom's Avelia range (partially developed in the context of the "TGV of the Future" programme co-financed by the state).
Innovative, agile and collaborative working methods
The SNCF-Alstom innovation partnership will be conducted in three phases:
Joint definition and specification of the new TGV, until the end of 2017.
Detailed design, industrialisation and approval, for a duration of approximately 4 years.
Production, train delivery, and entry into commercial service scheduled for mid-2022.
An integrated, multidisciplinary team of 20 experts from SNCF and Alstom, fully dedicated to the project, is from now on working in a single, stand-alone site located on Avenue du Maine in Paris. This method of working enables rapid decision-making, simultaneously taking into account all aspects of the project: passenger services, operation and maintenance, technical and industrial feasibility, costs ...
The SNCF-Alstom team, working in close conjuction with the internal resources of both companies, is also open to the outside. It regularly invites experts and guests to contribute their knowledge, particularly in terms of innovative working methods and advanced technical solutions. The team is thus enriched through successful collaborations with engineering and design schools, as well as other industrial companies and startups.
An alliance between two flagships of french industry
In order to carry out this major innovation project successfully, SNCF and Alstom will pool their expertise, knowledge and skills.
SNCF will provide its wealth of experience and its knowledge of passengers. The new-generation TGV will be conceived on the basis of its customers and their changing habits. SNCF will share its ambitions in terms of service, its expertise in the commercial operation of high-speed trains accumulated over more than 30 years, and, more generally, its knowledge of the mobility market.
The entire expertise of SNCF is being put to use for this purpose, including engineering at Le Mans, technical centres, marketing, on-board services, maintenance centres and train operating services. Together, these contributors represent an experienced team of over 250 agents in support of the project.
Alstom will provide its expertise in train design to accompany SNCF in its ambitions of passenger service, sustainability and profitability.Eight out of Alstom's 12 sites in France are involved in the design of the new train: Belfort for the power cars, La Rochelle for the carriages, Villeurbanne for the computer monitoring and control system, passenger information and onboard equipment, Ornans for the engines, Le Creusot for the bogies, Tarbes for the traction, Petit Quevilly for the transformers, and Saint Ouen for the design, signalling, logistical support and services support.
This project will generate a total of 4,000 jobs for the French rail sector.
* Decree n° 2014-1097 of 26 September 2014, which concerns simplification measures applicable to public procurement contracts, has transposed into national law a new type of procurement contract named «innovation partnership», designed to encourage public procurement in the domain of research and development (R&D).
About Alstom
From trains to services and from signalling to infrastructure, Alstom is a leading supplier of integrated mobility solutions. Alstom manages all the stages in setting up an integrated metro system, from its design, to its complete validation and commissioning. With 17 integrated metro projects awarded in cities such as Panama (L. 1 and 2), Guadalajara (Mexico), Los Teques (Venezuela) and Riyadh (Saudi Arabia) - one of the largest turnkey metro projects ever launched, Alstom is a world leader in this area.