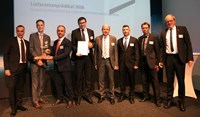 Alstom has received the "Supplier of the year 2016" award from Deutsche Bahn (DB) in the rolling stock category. The award ceremony took place on the occasion of InnoTrans, the largest trade fair for the railway industry taking place in Berlin. Berthold Huber, DB Board Member for Traffic and Transport, presented the award to Didier Pfleger, Vice President of Alstom in Germany and Austria, in recognition of the successful on-time delivery of 38 regional trains Coradia Lint for the Dieselnetz Southwest concession in Germany in December 2015.
"This is a tribute to the work Alstom has performed in the last years. It shows that Alstom is reaching its goal of becoming the preferred partner of its customer for transport solutions thanks to its lean and quick in delivery", says Didier Pfleger. "I am very proud of this achievement and of the long partnership we have with Deutsche Bahn."
Among the criteria evaluated by Deutsche Bahn are the reliability of the supplier, its transparency and contractual commitment, the cost reduction achieved and the processes improved, as well as the understanding of customer's goals and expectations. This is the second time Alstom receives the award.
Alstom has already sold 280 Coradia Lint diesel regional trains to Deutsche Bahn.
About Alstom
From trains to services and from signalling to infrastructure, Alstom is a leading supplier of integrated mobility solutions. Alstom manages all the stages in setting up an integrated metro system, from its design, to its complete validation and commissioning. With 17 integrated metro projects awarded in cities such as Panama (L. 1 and 2), Guadalajara (Mexico), Los Teques (Venezuela) and Riyadh (Saudi Arabia) - one of the largest turnkey metro projects ever launched, Alstom is a world leader in this area.