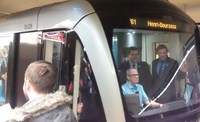 It's with great pride that the Bombardier-Alstom Consortium, manufacturers of the new generation of metro cars for Montréal, celebrated today with the Société de Transport de Montréal (STM) the entry into service of the new AZUR metro cars.
Raymond Bachant, President of Bombardier Transportation – Americas, stated that "We wish to congratulate our customer, the Société de Transport de Montréal, with whom we inaugurated today the AZUR metro cars. We have spared no efforts in carrying out this project and helping shape the City's vision: offering Montrealers cutting-edge metro cars that will provide STM passengers with the reliable, comfortable and rapid service to meet the high expectations of Québec's metropolis".
"AZUR has undergone strict and extensive qualification testing on the STM network, validating the metro trainset in its operating environment and confirming its performance," said Angelo Guercioni, President of Alstom Canada. "With today's entry into service, passengers can be assured of comfortable, enjoyable and safe journeys."
Combining Québec know-how and international experience, Bombardier leads the project with responsibility for design and engineering at its St. Bruno, Québec, site, and production and final assembly at its La Pocatière manufacturing facility.
This project generates important economic benefits for Québec: more than 150 Canadian suppliers, including over a hundred long-standing Québec companies, participate in the project, whose Canadian content exceeds 60%.
Alstom's scope of work for this contract is the supply of more than 900 bogies for the new metro cars, the automatic train control system, as well as communications and passenger information and video-surveillance systems.
The bogie is the unit that supports the metro car and supplies the acceleration, braking, guidance and suspension of the trains. Compared to the bogies of the older fleet, the new Alstom bogie features a pneumatic suspension, providing riders a much greater comfort level by minimizing the shaking and vibrating sensations sometimes felt. These new bogies, produced at Alstom's plant in Sorel-Tracy, Québec, also feature efficient electric traction and regenerative braking systems that feed energy back into the network to energize other trains that may be accelerating at the same time.
The automatic train control system supplied by Alstom, adapted to the operational mode, constraints and infrastructure of the STM network, ensures passenger safety and maximum fluidity. AZUR's on-board, integrated and fully customisable information system keeps passengers informed, safe and entertained throughout their journey, and allows for real-time monitoring to improve network operations.
About Alstom
As a promoter of sustainable mobility, Alstom develops and markets systems,equipment and services for the railway sector.
Alstom manages the widest range of solutions in the market – from high-speed trains to metros and tramways – and associated maintenance, modernisation, infrastructure and signalling solutions.
Alstom is a world leader in integrated railway systems.
It recorded sales of €6.2 billion and booked €10 billion of orders in the 2014/15 fiscal year. Headquartered in France, Alstom is present in over 60 countries and employs 32,000 people today.