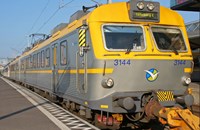 Alstom has signed a new contract with operator Västtrafik for revision and refurbishment of 18 X12 and X14 two-car vehicles. The work will be carried out in Motala, a workshop that specialises in refurbishment and heavy maintenance. The contract is worth €9 million (90 MSEK). Works are planned to start in autumn this year and finish end of 2020.
The previous Motala Train company, as it was known before its acquisition by Alstom, has already performed overhaul activities on this fleet and Alstom has strong experience as leading supplier of services, including to non-Alstom fleets. The mainly exterior refurbishment entails rust repair and painting, while the interior make-over will involve stripping the vehicles and mount new walls, ceiling, floor, chairs, etc.
"Alstom sees this contract as an important milestone to grow its presence in the region. It establishes our depot in Motala as a centre for large refurbishments and revisions. Our staff already has great experience of these trains and will be able to efficiently use the existing local competence to deliver this project with high quality and precision", says Björn Asplund, Managing Director of Alstom Sweden.
"Västtrafik looks forward to implementing the contracting measures that the vehicles need. It will ensure the operation of the vehicles as well as contribute to a better customer experience during the vehicle's remaining service life. We look forward to carrying out the work together with Alstom-Motala Train, who has long experience from similar work on relevant vehicle types," says Bülent Esenteg, Rolling Stock Manager X11-X14 Västtrafik.
The X12 and X14 trains belongs to the X10 family which were manufactured in 1991-1995 by ASEA/ABB. Västtrafik operates these trains primarily in the commuter traffic on the route Göteborg-Borås and Uddevalla-Borås-Varberg. In addition to these trains, Västtrafik runs a fleet with several different vehicles types, including 27 Alstom Coradia Nordic trains, in the Gothenburg region, all of which are maintained by Alstom in the depot of Gothenburg.
About Alstom
From trains to services and from signalling to infrastructure, Alstom is a leading supplier of integrated mobility solutions. Alstom manages all the stages in setting up an integrated metro system, from its design, to its complete validation and commissioning. With 17 integrated metro projects awarded in cities such as Panama (L. 1 and 2), Guadalajara (Mexico), Los Teques (Venezuela) and Riyadh (Saudi Arabia) - one of the largest turnkey metro projects ever launched, Alstom is a world leader in this area.