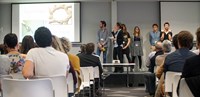 Alstom and the University of Lyon have completed their first student challenge based on the theme of accessibility. The awards were presented by Christian Chaumette, in charge of innovation for digital mobility at Alstom. The two winning teams proposed the projects SmartMove and Easy Info. A special "pick of the jury" prize was also awarded for the project P.A.U.L.
On 24 and 25 November, Alstom and the University of Lyon, via the Fabrique de l'Innovation, got around 50 students from all backgrounds (architecture, ergonomics, management, design, sociology, digital, engineering) involved in a challenge based on the theme of accessibility. The challenge for the teams was to come up with accessibility solutions for the rail transport of tomorrow.
To encourage the process of creating ideas and to better accompany the students, Alstom experts, professors from the University of Lyon and an accessibility representative from CEREMA were present. They successfully interacted with the students, answering their questions and ensuring the feasibility of the projects under preparation. Operators (SNCF and RATP), representatives of disabled users and persons with disabilities were among the members of the jury to ensure that the ideas proposed corresponded to the needs of operators and persons with disabilities.
The "best project" award went to the SmartMove project which proposed a solution combining a tool, "SmartPocket", made up of intelligent sensors that can activate the opening of the doors for example, with an application, "SmartLink", to make the connection with the operator and the users.
The second prize went to the Easy Info project, which enables persons with disabilities to obtain relevant information depending on their disability, in real time and according to their location (arrival at the station, arrival in the train)...
Alstom also awarded a "pick of the jury" prize to the project P.A.U.L, the "BlablaTrain", an application that creates a community of passengers, and simplifies on-board guidance and assistance.
Alstom will ask the winning teams to continue to develop and prototype their ideas as part of a final project. At the end, the solutions could be integrated into Alstom's wide range of railway products and services.
About Alstom
From trains to services and from signalling to infrastructure, Alstom is a leading supplier of integrated mobility solutions. Alstom manages all the stages in setting up an integrated metro system, from its design, to its complete validation and commissioning. With 17 integrated metro projects awarded in cities such as Panama (L. 1 and 2), Guadalajara (Mexico), Los Teques (Venezuela) and Riyadh (Saudi Arabia) - one of the largest turnkey metro projects ever launched, Alstom is a world leader in this area.