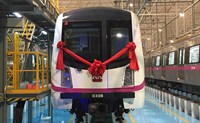 The Xi'an metro line 3 phase one for which Alstom supplied traction system for the metros that circulate on started today revenue service. The contract was signed in 2013 between Alstom and Xi'an Metro Company to equip 246 metro cars with OptONIX traction system. That was the first transport contract for Alstom in Xi'an city.
Phase one - which is 39.1 km long and includes 26 stations – connects the city from southwest to northeast, passing through important landmarks including Xi'an International University, Qinglong Temple, Chanba Ecological District, Xi'an International Habor Affairs Area, Xi'an Economic & Technological Development Zone and Xi'an Free Trade Zone. A further extension of the metro line toward the south is planned[1].
The OptONIX traction system is specifically designed and developed for the Chinese market[2]. The traction systems for line 3 of Xi'an metro were manufactured by Alstom's local joint venture, Shanghai Alstom Transport Electrical Equipment Co. Ltd. (SATEE)[3], with motors manufactured by another Alstom local joint venture, Xi'an Alstom Yongji Electric Equipment Co. (XAYEECO)[4]. Components came from Alstom Tarbes site in France and software from Alstom Charleroi site in Belgium.
"Alstom is proud to have participated in the Xi'an metro line 3 project which will greatly enhance and improve passenger experience of Xi'an commuters. With its internationally proven technology, localized manufacturing and excellent execution of projects, Alstom is the preferred partner to accompany Xi'an in its upcoming mobility projects" said Ling Fang, Managing Director of China & East Asia, Alstom.
Alstom has delivered traction solutions for more than 4,000 metro cars of 23 metro lines in 9 cities in China and abroad including Xi'An, Chengdu, Beijing, Shanghai, Nanjing, Qingdao and Hong Kong. Its joint venture in China, SATEE, has had more than 16 years' experience manufacturing traction system for metro cars.
[1] For a line that would be 46 km long and include 32 stations
[2] Launched in 2009
[3] Created in 1999. Alstom holds 60% of the shares
[4] Created in 2006. Alstom holds the majority of the shares. It is one of the two motor manufacturing sites for Alstom global.
About Alstom
From trains to services and from signalling to infrastructure, Alstom is a leading supplier of integrated mobility solutions. Alstom manages all the stages in setting up an integrated metro system, from its design, to its complete validation and commissioning. With 17 integrated metro projects awarded in cities such as Panama (L. 1 and 2), Guadalajara (Mexico), Los Teques (Venezuela) and Riyadh (Saudi Arabia) - one of the largest turnkey metro projects ever launched, Alstom is a world leader in this area.